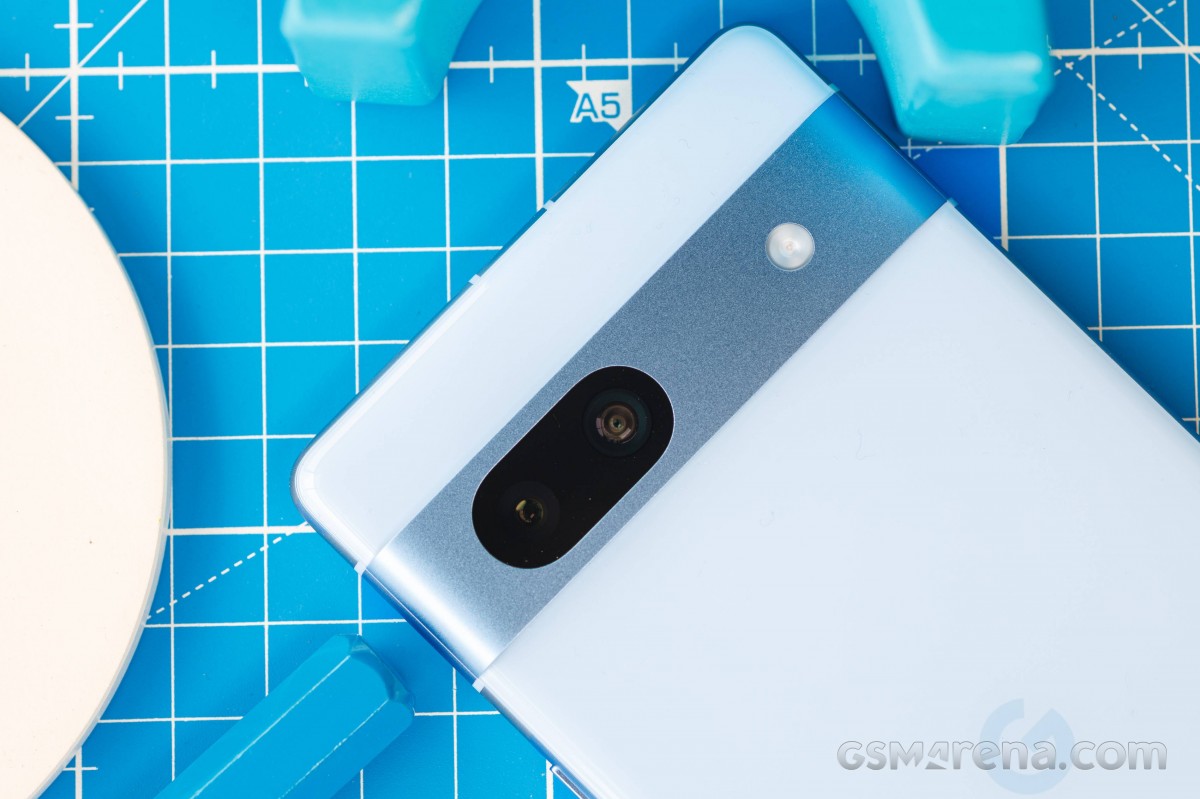 Introduction
Don't get a Pixel 7 - pick the 7a instead. That more or less summarized our thoughts from our initial encounter with Google's latest a-series smartphone, and we're here now with the full review to establish how correct that early assessment was.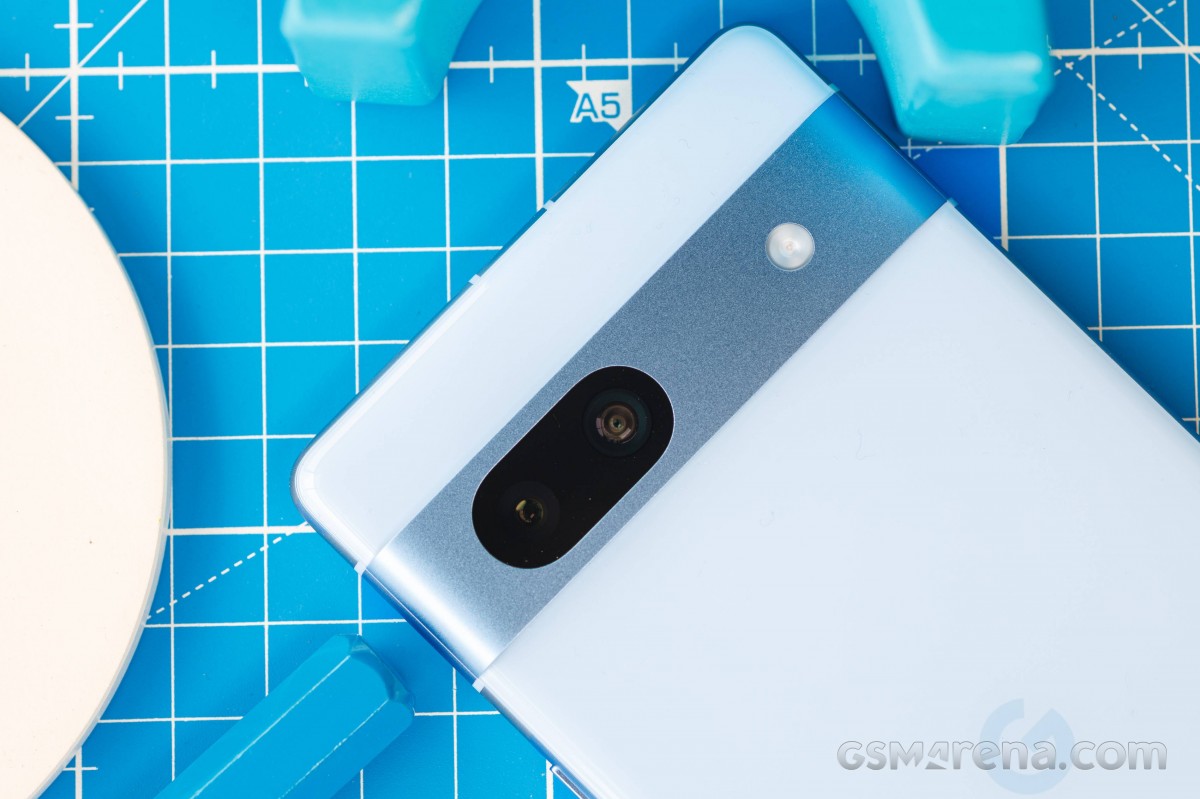 It's a pretty natural conclusion that anyone can arrive at, really, even by simply looking at the specsheet - and, simultaneously, at the pricelist. The 7a gets closer to the 'high-end' models than any previous offering with an 'a' in its name, and comes in at a not-insignificant $100/€100 less (or thereabout, depending on who you ask and at what time) - what's not to like? But let's not put the verdict before the review.
The 7a improves on some key areas that held the 6a back. Perhaps most importantly, you now get a 90Hz display in place of the old model's dated 60Hz unit. Yes, the bulk of the competition is at 120Hz already, but the jump from 60 to 90 is the most noticeable from a usability perspective, so maybe we can give the 7a a pass.
The camera system gets a boost too. A new 64MP Quad Bayer main unit replaces the basic 12.2MP one of the 6a - those are more pixels than you'd get with a Pixel 7 (50MP), even though it's a smaller sensor. Similarly, the 13MP ultrawide is also higher-res (if only just) than the one on the 6a and the 7, albeit with a smaller sensor. There's no AF on this one, but then it's only the 7 Pro that has an autofocusing ultrawide, so the 7a doesn't really lose points here against the 7. The selfie camera is another 13MP affair, that one too being nominally superior to its brethren's setups.
A noteworthy addition to the a-series feature set is wireless charging. You may scoff at the 7.5W throughput, but you're unlikely to be in a hurry when sleeping. And it's not like Pixels are known for fast charging to begin with.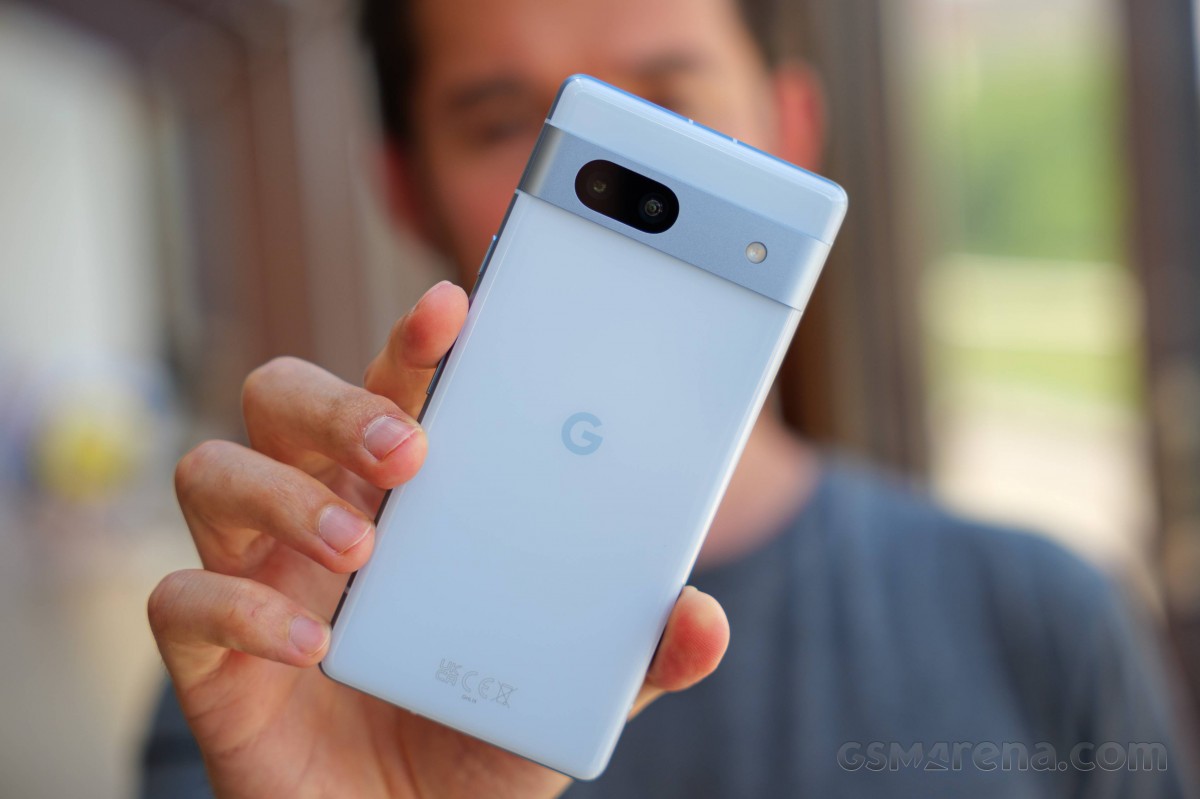 You get the same Tensor G2 chipset on the 7a that the 7 comes with. While it's somewhat underpowered compared to other high-end SoCs that the 7 is fighting against, it looks a lot better in the 7a's context.
Battery capacity is essentially the same between the two models, and the 7a may eke out a few extra minutes of battery life thanks to its slightly smaller display and lower max refresh rate - we'll see in due time if less ends up being more in this respect.
Less is less in the 7a's IP rating, but the IP67 should be as good as the 7's IP68 for that one-time accidental bathroom dunk. The lack of a storage option other than 128GB isn't as easy to dismiss, though - maybe the 256GB version remains the key thing the 7 has going for it in this head-to-head.
Google Pixel 7a specs at a glance:
Body: 152.0x72.9x9.0mm, 194g; Glass front (Gorilla Glass 3), aluminum frame, plastic back; IP67 dust/water resistant (up to 1m for 30 min).
Display: 6.1" OLED, HDR, 90Hz, 1080x2400px resolution, 20:9 aspect ratio, 429ppi; Always-on display.
Chipset: Google Tensor G2 (5 nm): Octa-core (2x2.85 GHz Cortex-X1 & 2x2.35 GHz Cortex-A78 & 4x1.80 GHz Cortex-A55); Mali-G710 MP7.
Memory: 128GB 8GB RAM; UFS 3.1.
OS/Software: Android 13.
Rear camera: Wide (main): 64 MP, f/1.9, 26mm, 1/1.73", 0.8µm, Dual Pixel PDAF, OIS; Ultra wide angle: 13 MP, f/2.2, 120˚, 1.12µm.
Front camera: 13 MP, f/2.2, 20mm (ultrawide), 1.12µm.
Video capture: Rear camera: 4K@30/60fps, 1080p@30/60/120/240fps, OIS; Front camera: 4K@30fps, 1080p@30fps.
Battery: 4385mAh; 18W wired, PD3.0, 7.5W wireless.
Connectivity: 5G; eSIM; Wi-Fi 6e; BT 5.3; NFC.
Misc: Fingerprint reader (under display, optical); stereo speakers.
Google Pixel 7a unboxing
We've come to expect minimal bundles from certain companies, and Google is one of them. It's no surprise then, that the Pixel 7a ships in a box that's barely larger than the handset itself. The two-piece white cardboard package has a likeness of the phone on lid, color-matched to the actual unit inside.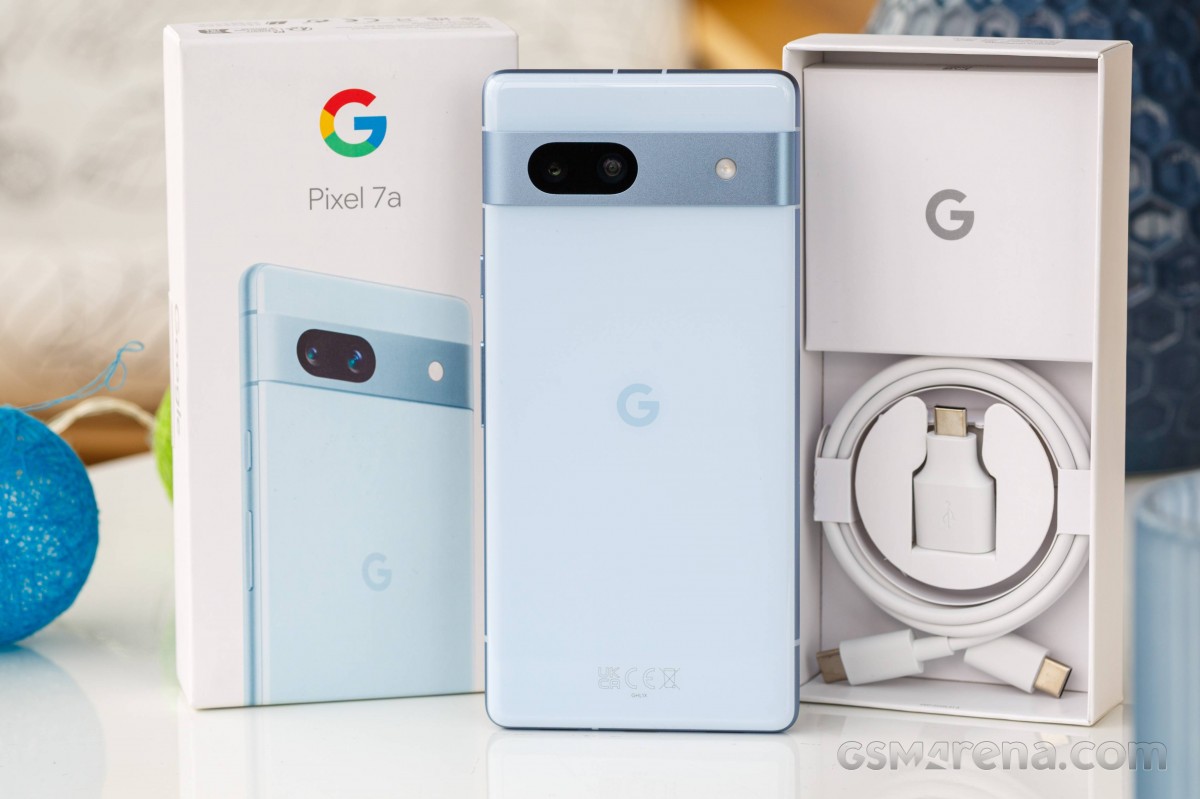 The contents include a USB-C cable and USB-C male to USB-A female adapter - standard Google stuff. There's no charger inside, but on some markets you may get Google's 30W adapter (in its own separate retail packaging) included in the price - that was the case with our German review unit. We did get ours from a third-party retailer, as opposed to the Google online store, and not all retailers appear to be running the same promo. Chances are you'll be needing to come up with your own charger, is what we're saying.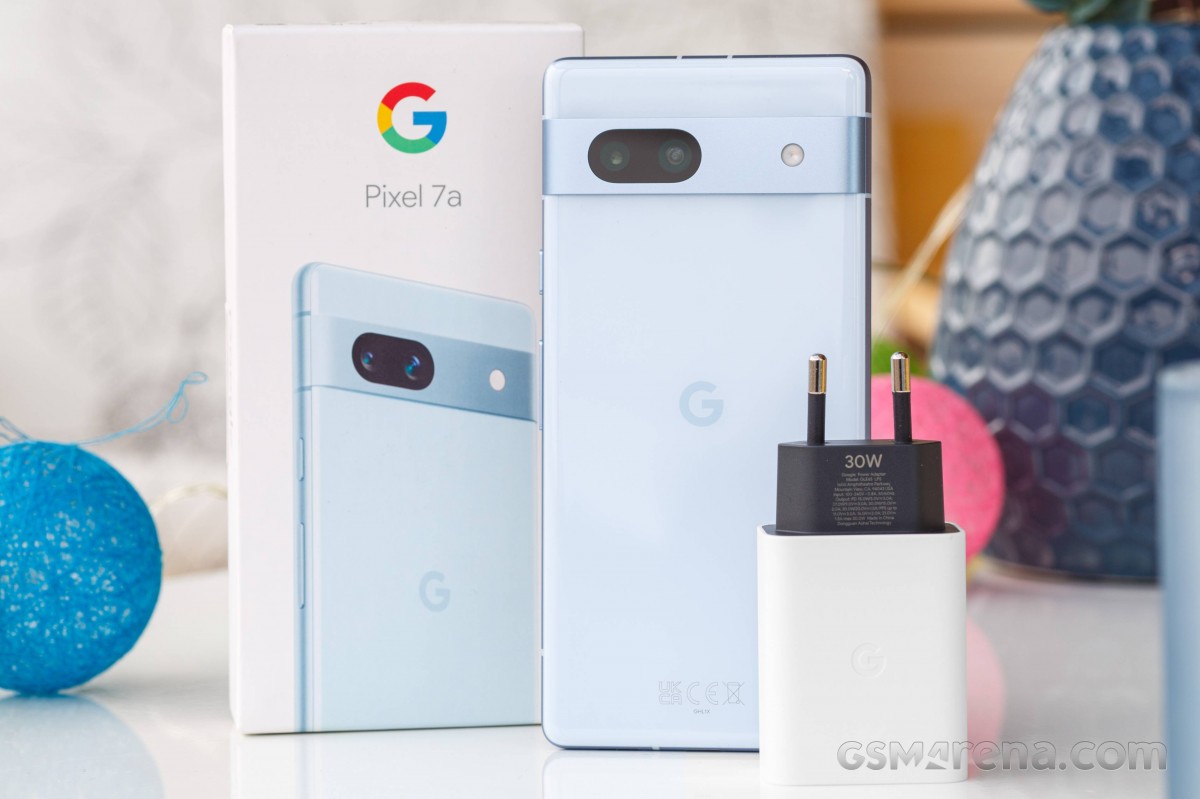 Now, while the charger situation is not exclusive to the Pixel 7a, a lot of competitors in the segment do come with adapters in the box. A bundled protective case is also not unheard of. Perhaps a value-oriented consumer like the ones eyeing a 7a would appreciate getting a bit more for their money.
Design, build quality, handling
The Pixel 7a follows in the footsteps of the more expensive Pixel Sevens with its design, abandoning the previous a-series generation's styling. So, gone are the two-tone back panel and the always-black visor, replaced by a single color for both 'pieces' of the rear panel and camera strip in a complimentary hue.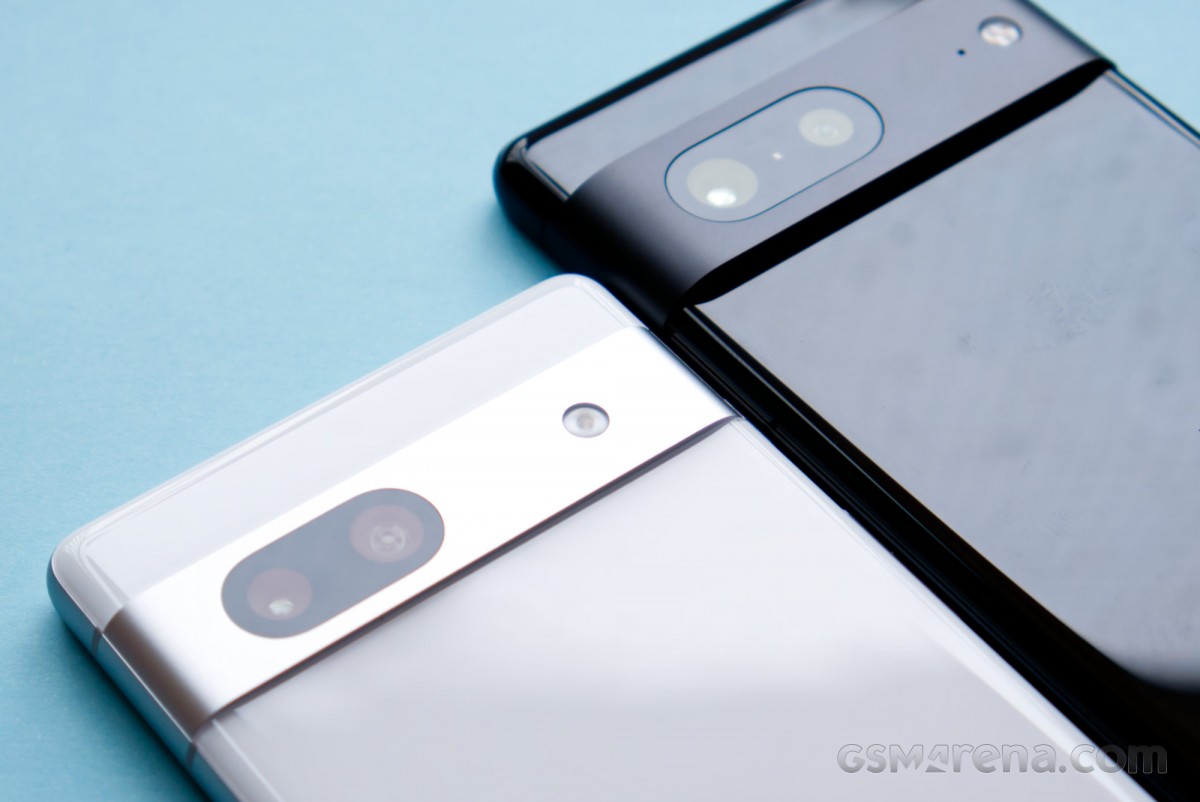 Snow Google Pixel 7a (left) next to Obsidian Pixel 7
The 7a does come in a few different colorways compared to the 7, though the Snow one from the above photo is shared. The 'black' version here is called Charcoal and is a few shades lighter than the Obsidian of the 7. Instead of the 'green' Lemongrass of the 7, the 7a comes in a 'blue' Sea colorway, as seen on our review unit. And while all three of the above variants of the 7a are available on Google's website and at third-party retailers, an extra fourth colorway called Coral is exclusive to Google's own store.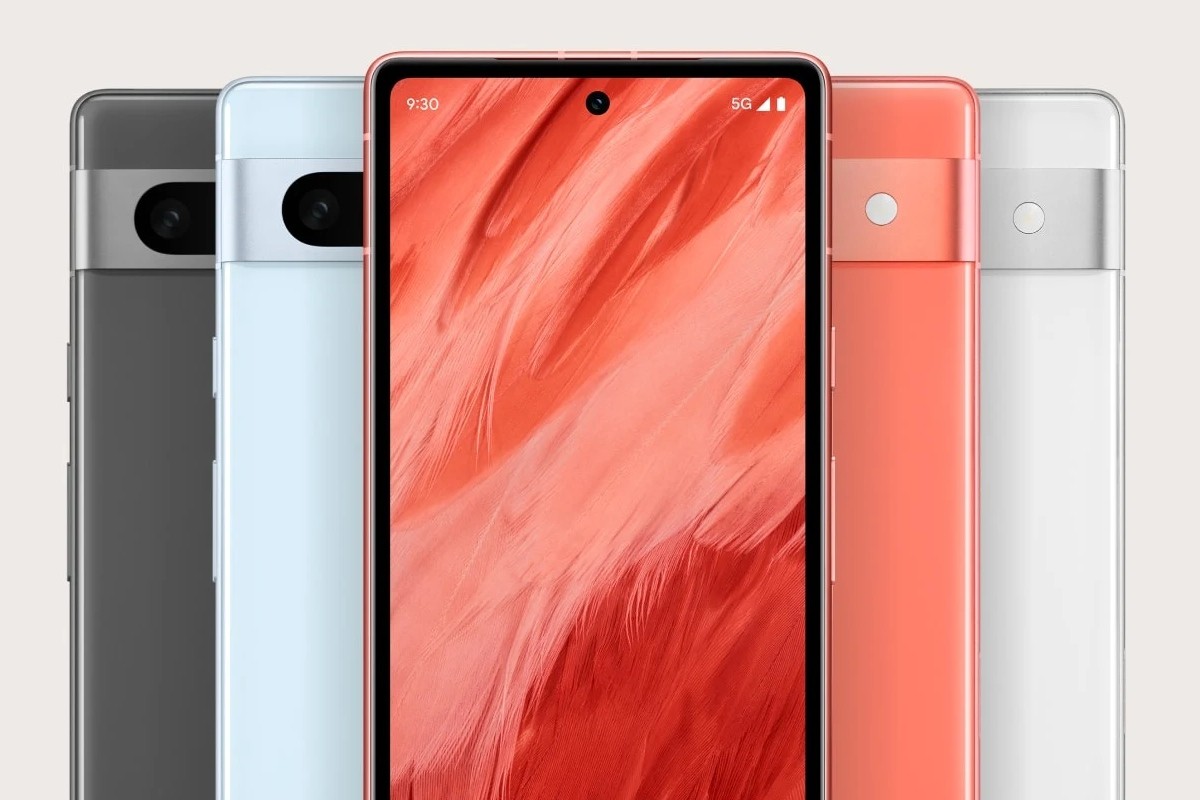 Now, while the 7a's back looks just like the 7's, things are different here in a few ways. For one, the camera strip isn't made from one piece with the phone's midframe - it's still satin-finished aluminum, just attached to the rear cover. That rear cover is plastic, as opposed to the glass on the 7.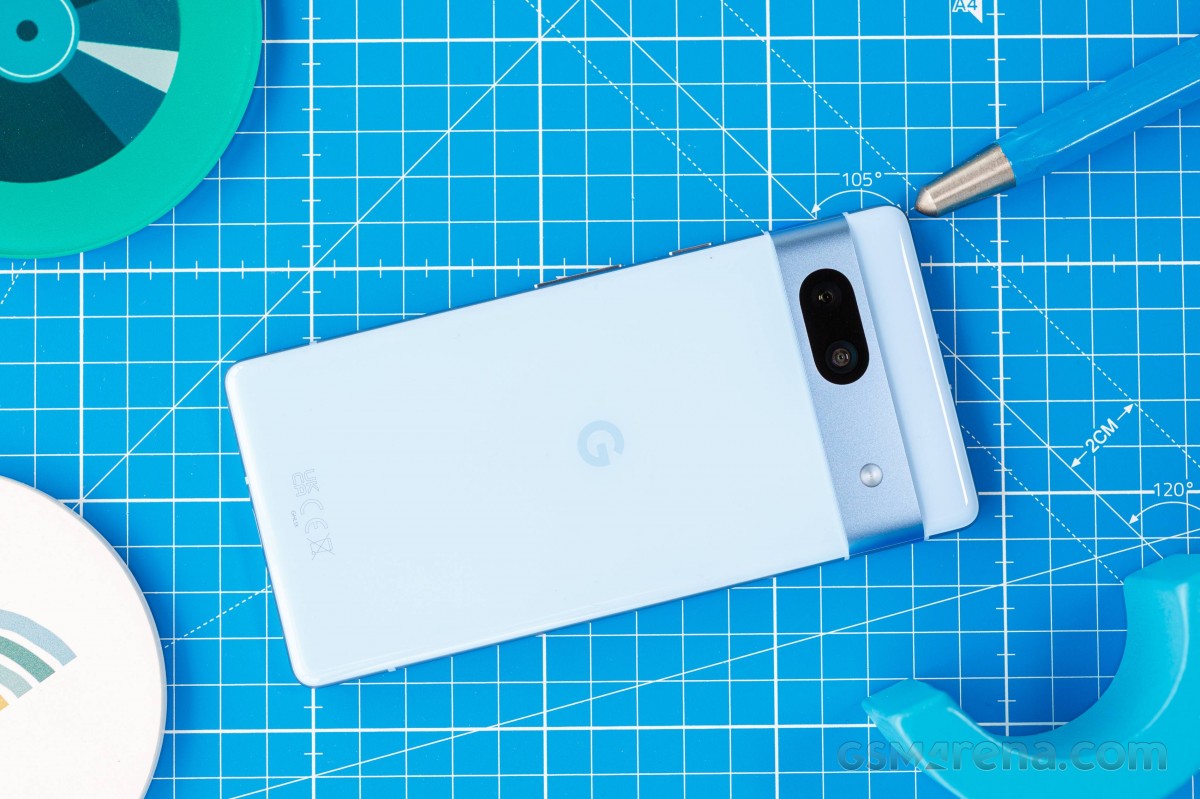 Glass vs. plastic is a material choice with pros and cons no matter which way you go, and among plastic's virtues is that it's less likely to shatter in the event of a drop. From that perspective, the clumsier types could find the 7a a more suitable match. Scratching is a whole different subject, of course, and not one where plastic does well.
Everyone will appreciate the dust and water resistance though, which may not be as good as the 7's but still pretty solid - the 7a is rated to survive down to 1m underwater for as long as 30mins and not the 7's 1.5m (that's the difference between IP67 and IP68).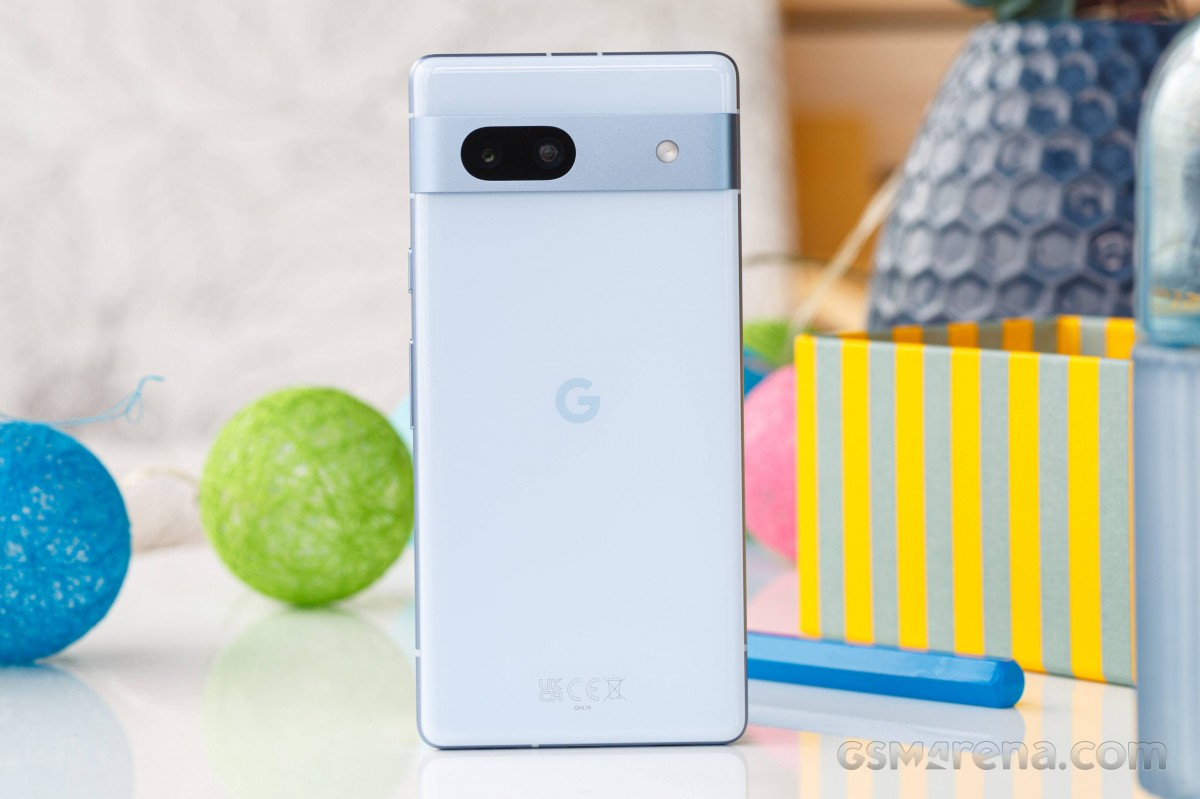 While the material selection isn't a bad thing in itself and the 7a being plastic doesn't make it look any worse than the 7, there's something about the way the rear panel meets the frame that's less than ideal. Running your finger from the frame into the panel gives a slightly scratchy feel - it's not like it's going to hurt you, but it's a little weird.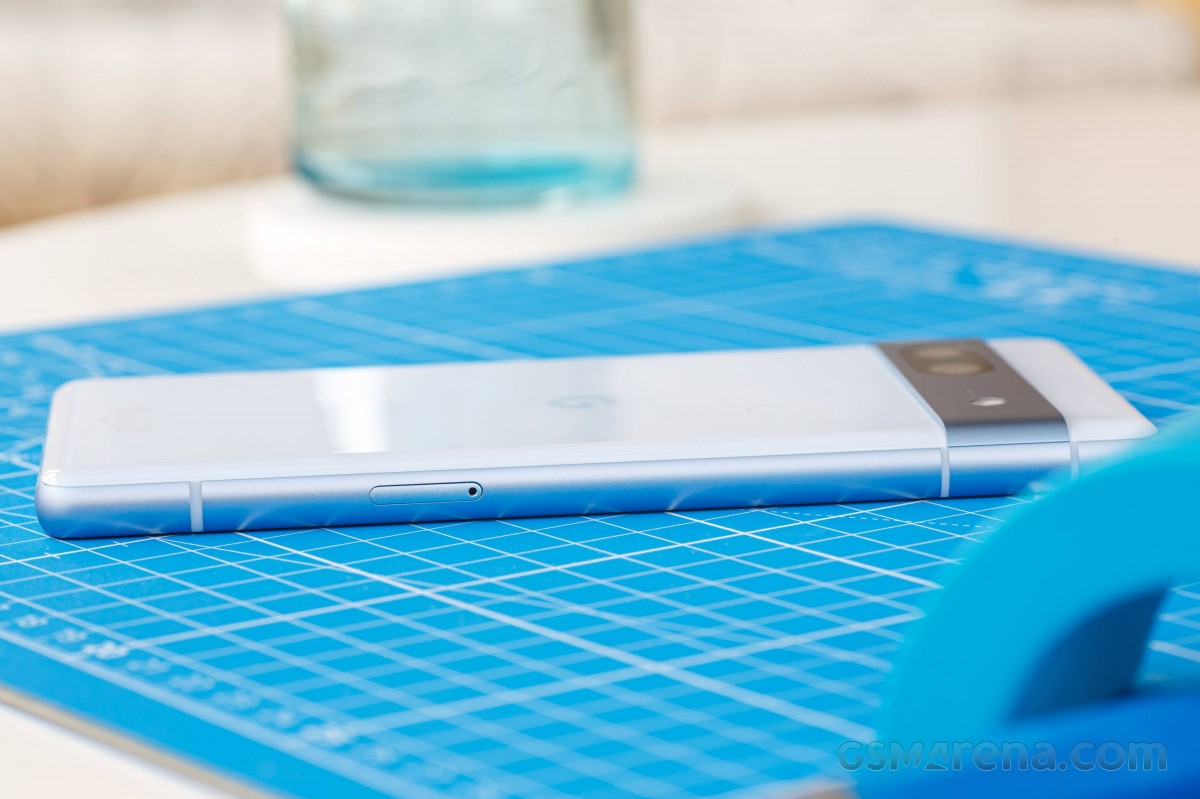 The frame itself is still aluminum and has that non-glossy satin treatment - that's more or less the same as the Pixel 7 and unlike the 7 Pro's shiny rails. The physical controls are the same as on any recent Google phone and that means a reverse arrangement of the power key and volume rocker than pretty much any other phone - power above volume. Well, technically, that's not even a power key all by itself, but the Google Assistant button instead - it's just that we're old.
The buttons have a positive, if a bit stiff, click action. Their placement is such that they're always within easy reach for operation with either hand.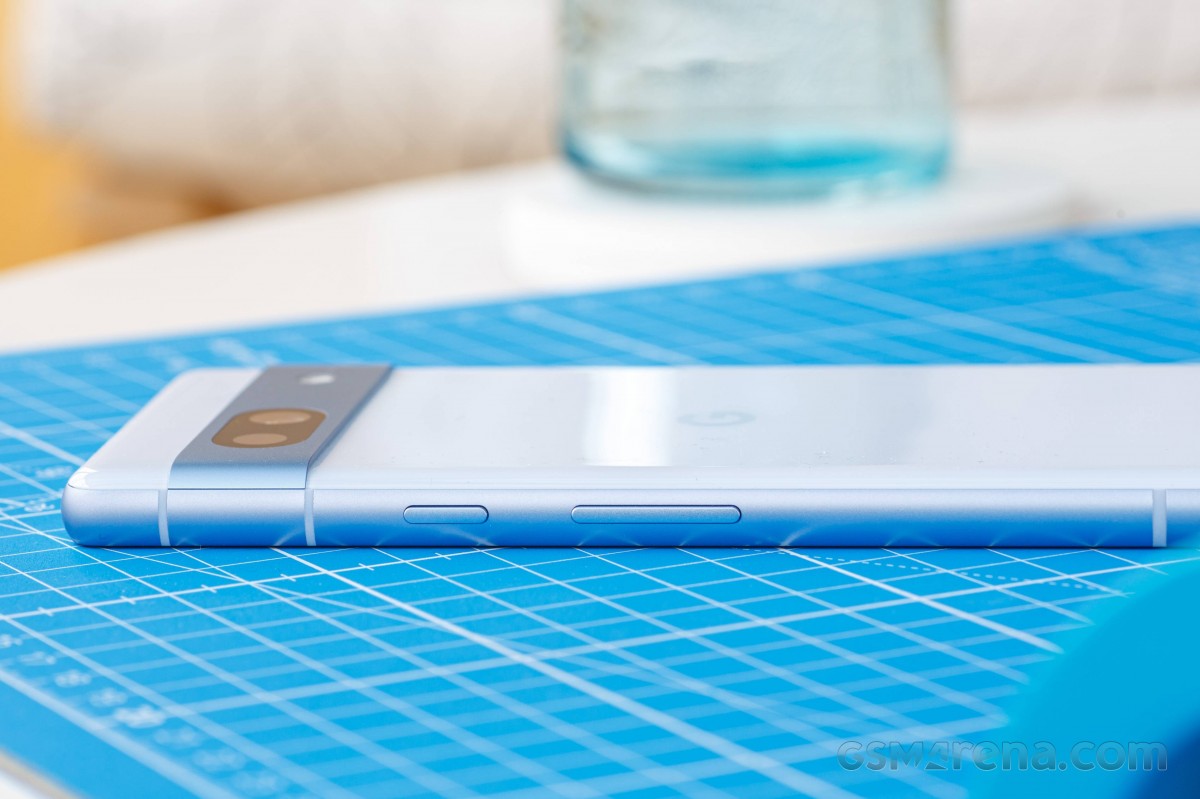 The frame has antenna lines that are symmetrical left to right, except for the bottom where there's just a single off-center one, to the right of the USB-C port.
The bottom is also home to a couple of mesh-covered slits, the right one serving as the bottom speaker's outlet while the left one is where the primary mic gets its input. The top features a lone mic pinhole, while the left side holds the card tray.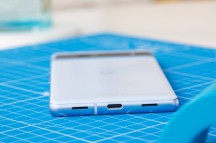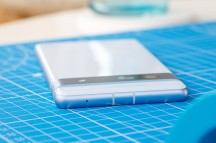 Bottom • Top • Left side with card tray
Making our way to the front of the Pixel 7a, we're greeted by the relatively small 6.1-inch display. What's immediately striking is how meaty the bezels around it are - sure, the compact screen does exaggerate their thickness, but they're not objectively thin to begin with. The Pixel 7's black borders are certainly slimmer.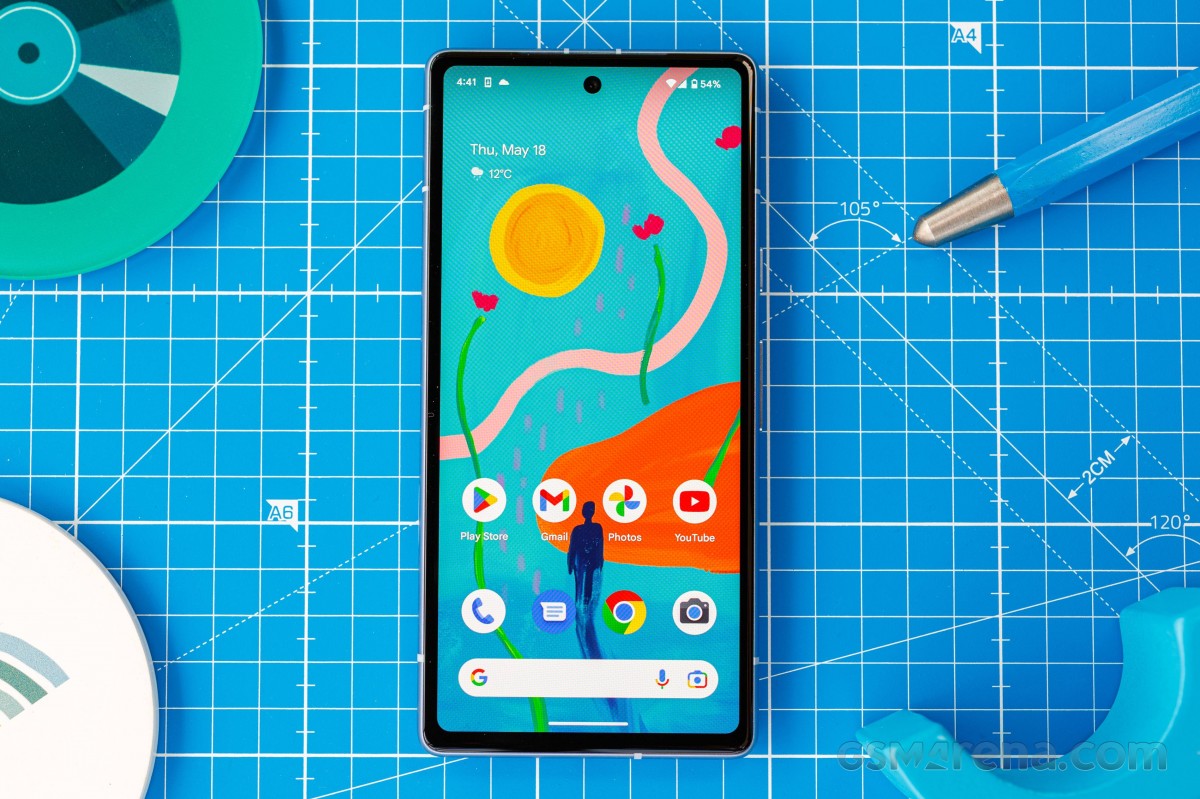 We can't fault the Pixel 7a for its fingerprint reader placement - a good 4cm up into the display where your thumb would naturally fall. In our experience, it worked as fast and as reliably as on the 7 or 7 Pro. Perhaps the ultrasonic Galaxy readers are a bit better, but the 7a didn't leave us waiting for unlocks.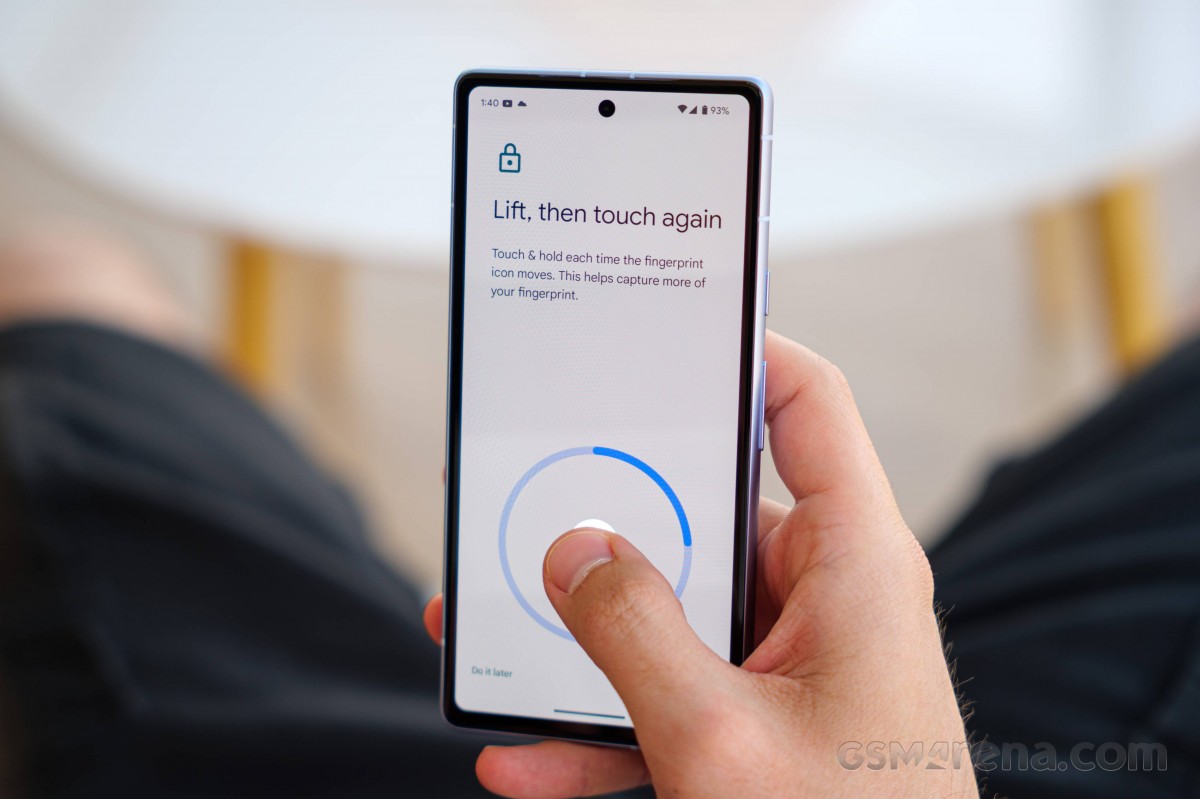 Both the 7 and 7a feature flat displays, so you can't pick one over the other based solely on that. But the 7a does try and make a case for itself looking from the standpoint of another usability aspect - it's the more compact handset.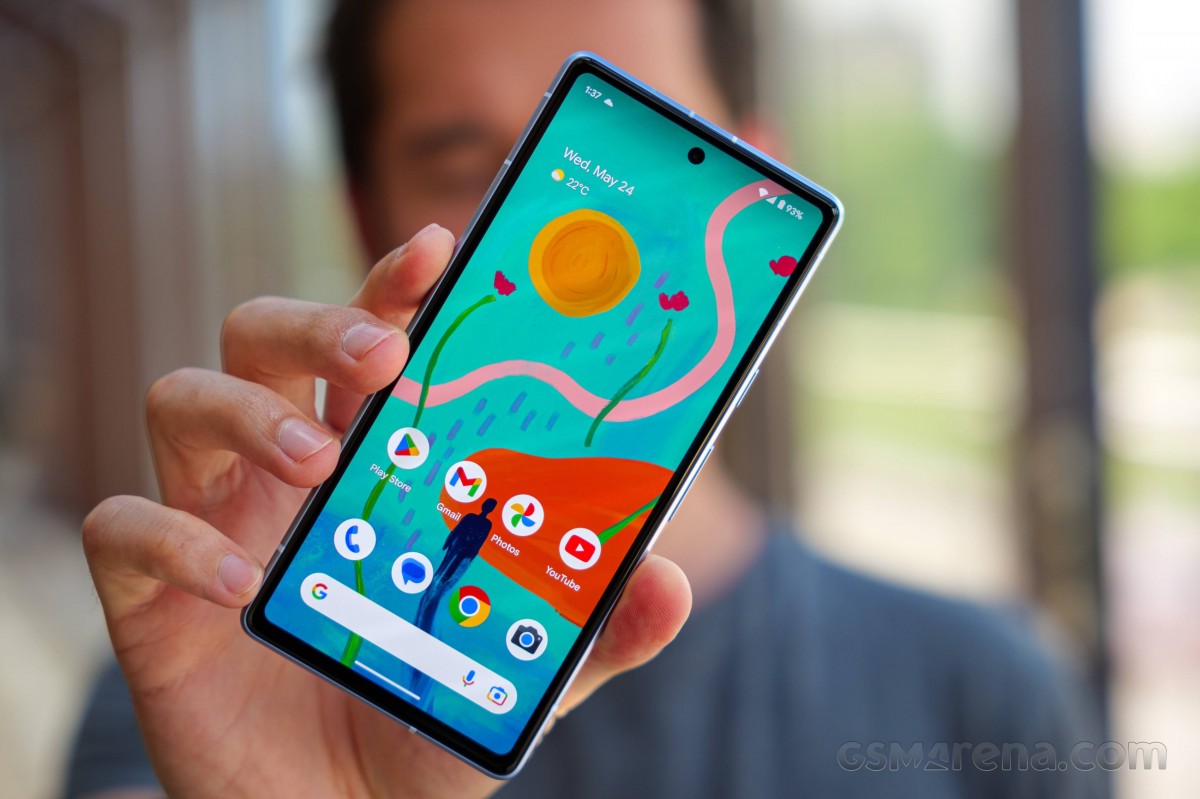 That said, the 7a's whole pocketability advantage is more of a subjective perception. The biggest difference is in height where the 7a is less than 4 millimeters shorter. The 7a is barely narrower, and actually slightly thicker than the 7. You'd think that the 6.1" vs. 6.3" difference in display diagonal would translate into a more meaningful physical difference, but the bezels get in the way.
You can see how the two phones size up in our 3D Size compare tool by clicking the image below.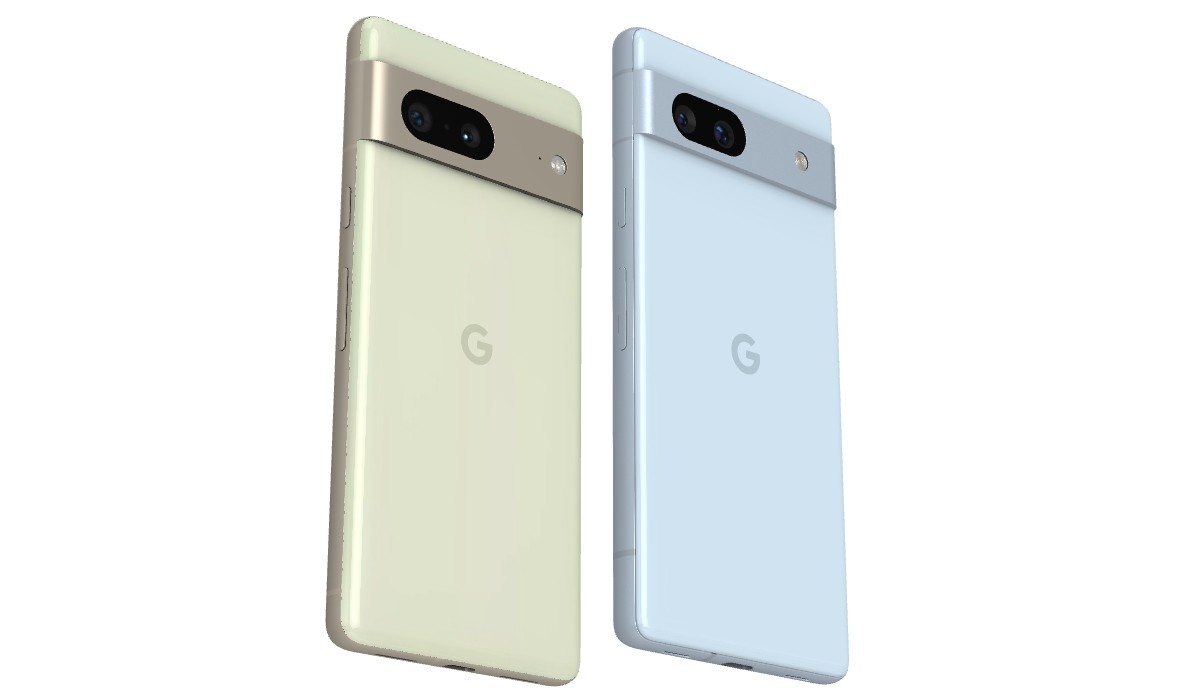 It's not meaningfully lighter either, the 7a. At 194g it's essentially the same weight as the 7 (197g). Compared to the 6a's 178g, the 7a is tangibly heavier and that's, in a way, a downgrade for the lineup - basically, there's no lightweight current Pixel anymore. And no - just because the 6a remains available, doesn't make it any less outdated.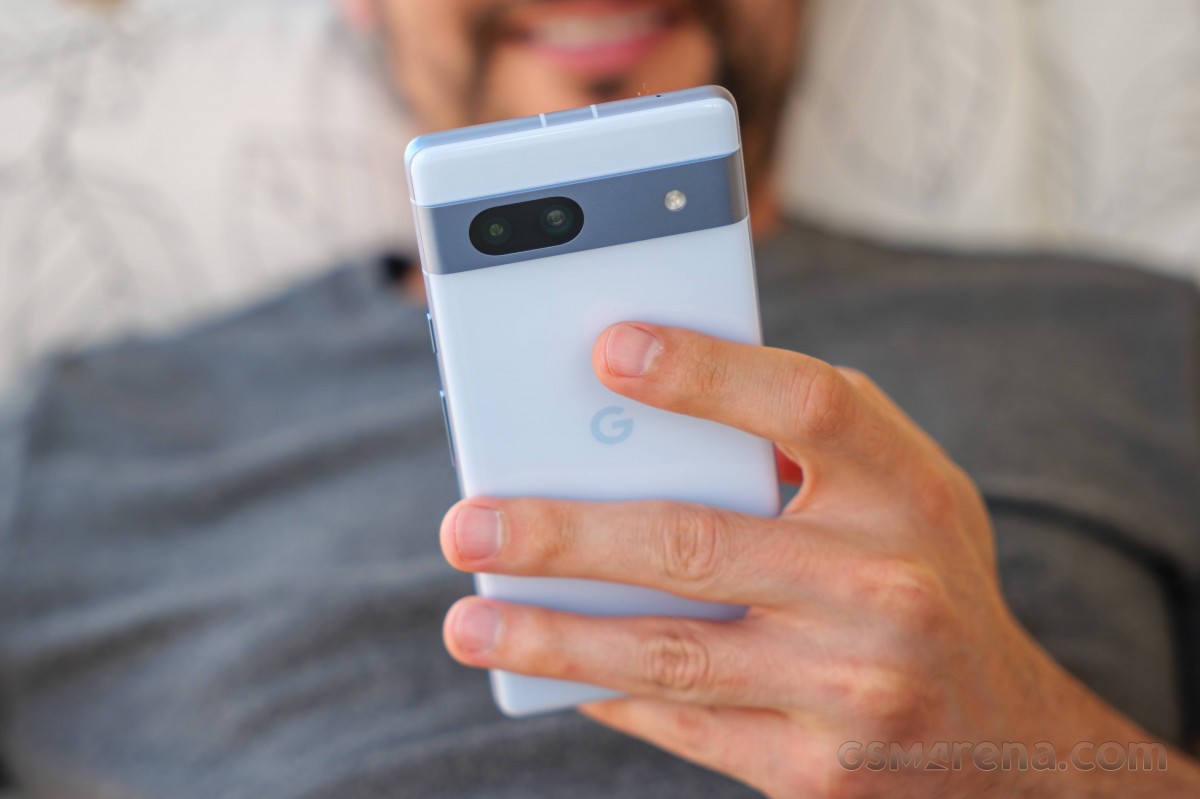 We may have spiraled too harshly into criticism, and that may be unfair to the 7a. It still operates pretty decently with just one hand - a bit better than the 7. It's just not a big enough advantage to be considered a selling point itself.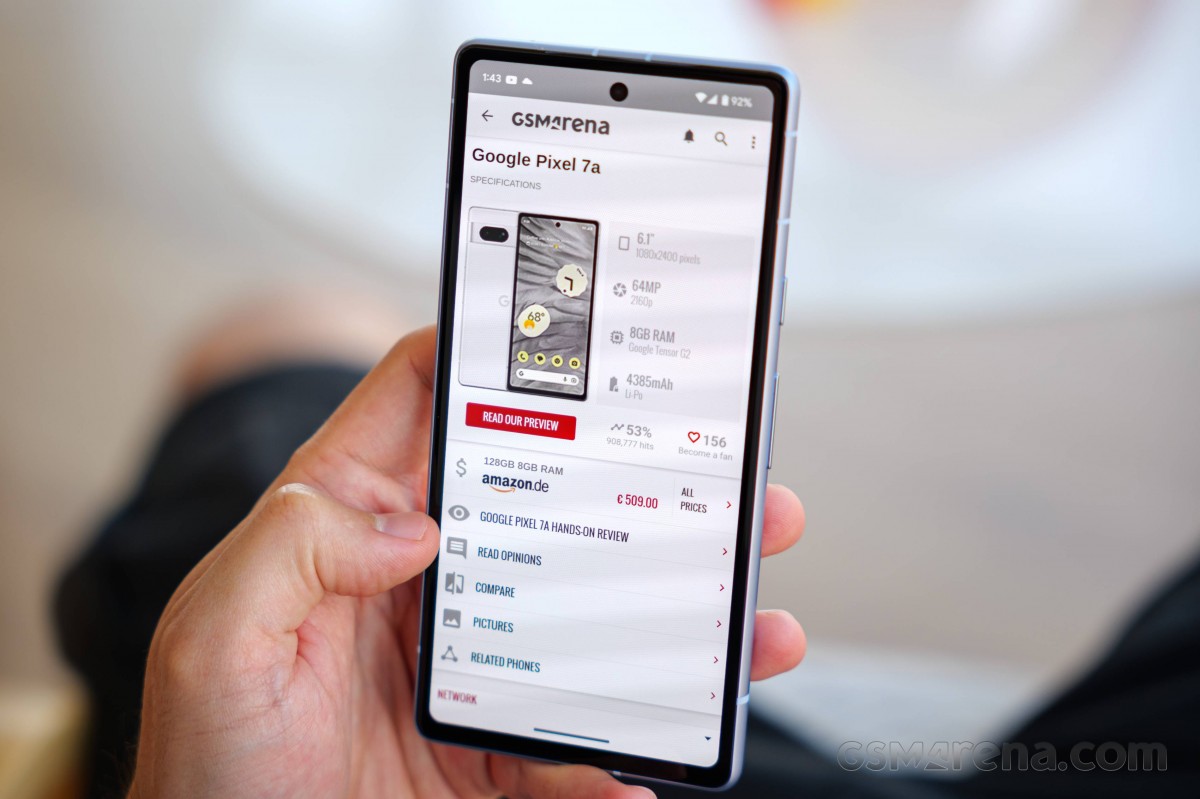 The Pixel 7a's design leaves no doubt what lineup the handset belongs to and is both recognizable and appealing - to the right crowd, at least. The dust and water resistance is appreciated since it doesn't come guaranteed at this price, even though we've started seeing it more often. The bezels do rob the front of some poshness points and while it's still the shortest Pixel, it's not necessarily all that compact.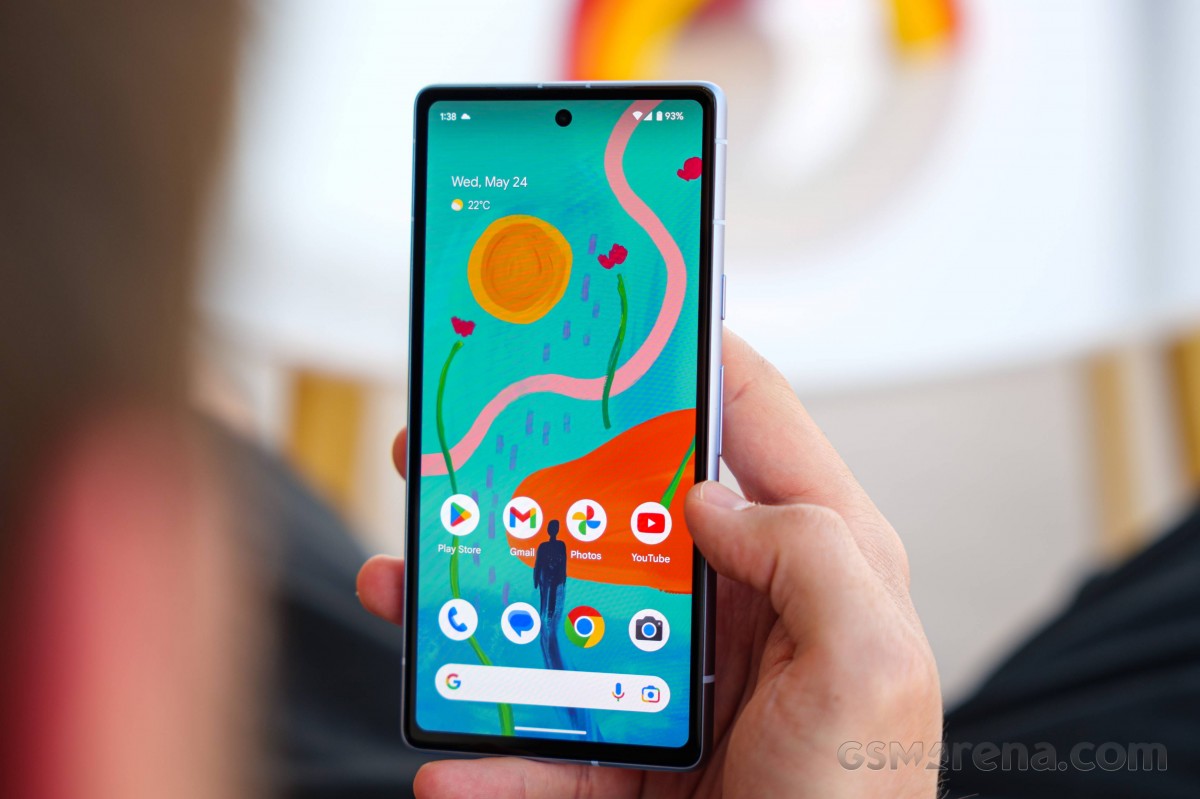 6.1-inch OLED gets a 90Hz refresh rate
The Pixel 7a maintains the display diagonal of the old model at 6.1 inches, and that's a tiny bit less than the Pixel 7's 6.3 inches. The 1,080x2,400px resolution in a 20:9 aspect ratio results in a pixel density of 429ppi.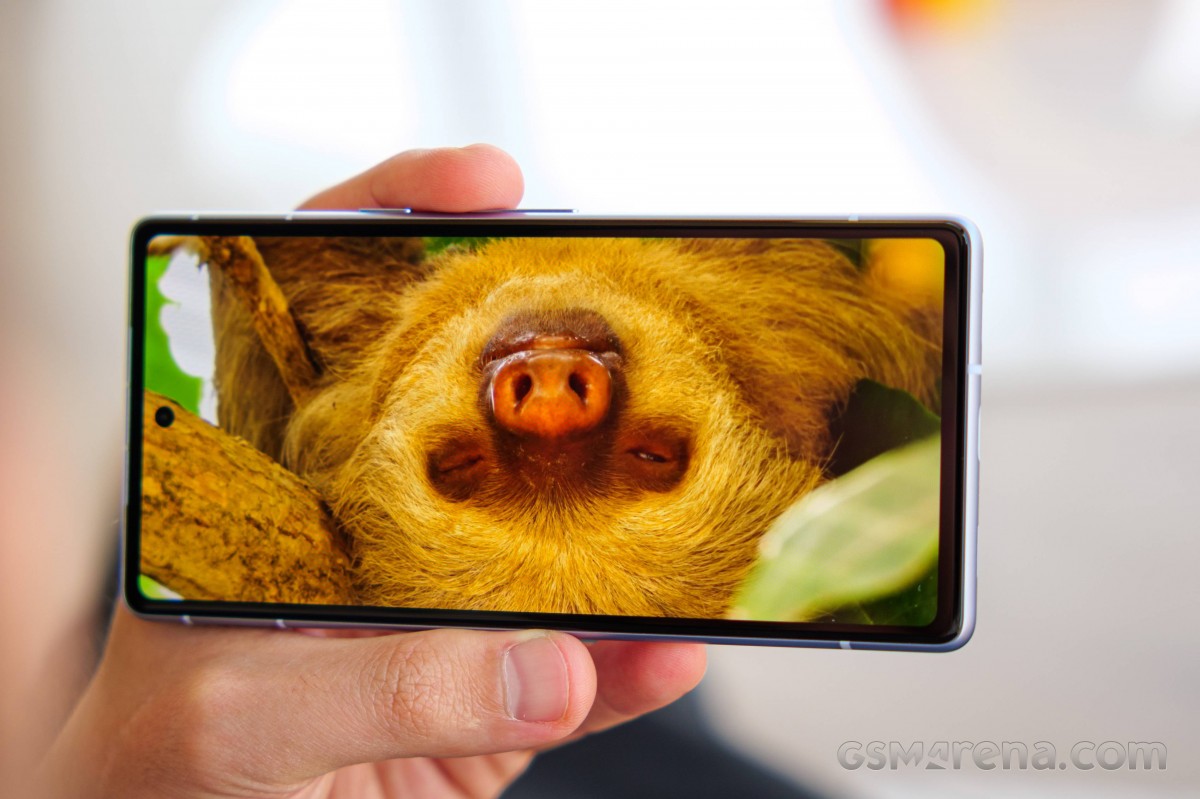 There is one change this year and it's a long overdue one - the 'a' model finally gains a higher-than-standard refresh rate. In absolute terms it's only sort of 'high' - the 7a settles for 90Hz when even midrangers from most companies are using 120Hz panels these days. But then the Pixel 7 (proper) also maxes out at 90Hz, so it's unreasonable to expect the 7a to go above that. We'll reiterate that from a user experience perspective the move from 60Hz to 90Hz is more easily felt than that from 90Hz to 120Hz, but that doesn't change the fact that the Pixel 7a is lagging behind the competition in this respect.
It's leading the pack in terms of maximum brightness, though. We measured 1,070 nits with adaptive brightness enabled which is about as high as you can get for the money, though the Motorola Edge 40 is close. The just under 500 nits you can achieve manually is pretty much par for the course for a modern-day OLED display.
Max display brightness test
White test pattern, 75% fill (nits)
Sort by
Manual mode
Auto mode
Galaxy S23

1198

476

Pixel 7 Pro

1090

588

Pixel 7a

1070

498

Motorola Edge 40

1043

516

Galaxy A54

980

457

Pixel 7

974

460

Sony Xperia 10 V

947

624

Xiaomi 13 Lite

938

512

Apple iPhone 13 mini

N/A

831

iPhone 14

N/A

804

Samsung Galaxy S21 FE 5G

792

385

Nothing phone (1)

663

466

Apple iPhone SE (2022)

N/A

605
Color accuracy
Color reproduction on the 7a is handled in the simple way we're used to seeing on Pixels - there are just two modes and no sliders for further tweaking. The default Adaptive mode is the one for vibrant colors and wide color gamut, and it showed very good (but not great) overall color accuracy for our DCI-P3 test swatches.
It's noteworthy that unlike the vast majority of phone displays, the default setting doesn't have a strong bluish cast and the white point is close to perfect, making the absence of temperature adjustment a non-issue.
It's a similar story for the white point in Natural mode, only that one is also properly accurate for the sRGB content it's been tuned for.
HDR and streaming
Just like the 7 and 7 Pro, the 7a supports HDR10 and HDR10+, but no Dolby Vision (which isn't a dealbreaking offense, particularly for this class). Popular platforms like YouTube, Netflix, and Prime Video all serve HDR streams on the Pixel 7a, and HDR content looks striking with great colors and respect for the original content brightness level - not all phones with HDR support can actually claim that.
The Widevine L1 certification means you get 1080p resolution for DRM-protected content too.
Refresh rate
The 7a adopts the same HRR control as the Pixel7 and it's a pretty simple one - you touch the screen, the refresh rate goes to 90Hz, you leave the display idle for a couple of seconds, system brings it down to 60Hz. That's it.
The refresh rate remains 90Hz even in video players and streaming apps while you're interacting with the UI, but since you are not touching the display during video playback, the refresh rate goes down to 60Hz anyway.
Games that support high frame rates do get a constant 90Hz refresh rate.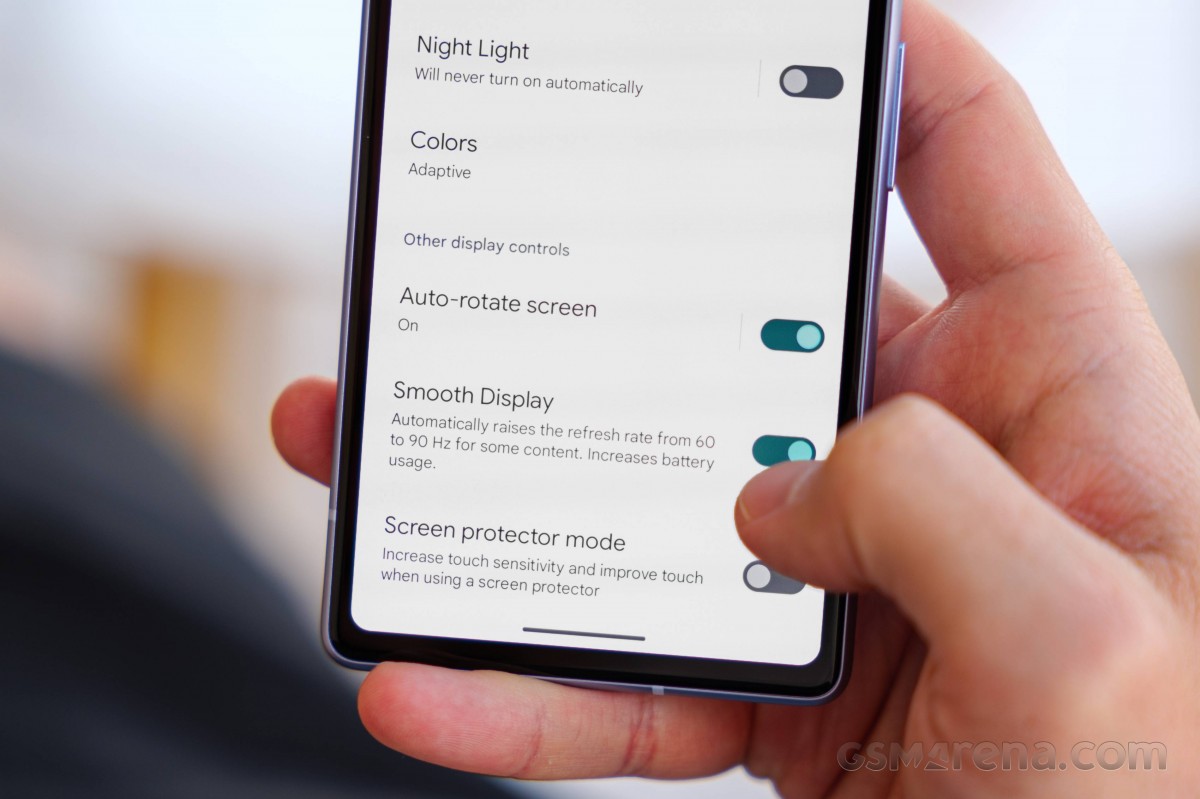 You can limit the refresh rate to 60Hz by disabling the 'Smooth Display' toggle in settings in case you want to preserve battery life. However, from our personal experience, the difference between 60 and 90Hz refresh rates in battery life is negligible.
Google Pixel 7a battery life
The Pixel 7a's battery has a rated capacity of 4,385mAh - that's 25mAh less than the 6a, but 30mAh more than the Pixel 7. Competitors like the Motorola Edge 40 and Nothing Phone (1) are in the same ballpark, while the Galaxy A54 is a bit better equipped, with its 5,000mAh power pack.
In our testing, the Pixel 7a didn't exactly return spectacular results, with standby and voice call longevity being below average. It did somewhat redeem itself in the screen-on tests, where the nearly 15 hours on our Wi-Fi script are as good as on rivals, while the 18:12h of looping videos is a bit below the competition, but still solid. The overall Endurance rating of the Pixel 7a then works out to 76h.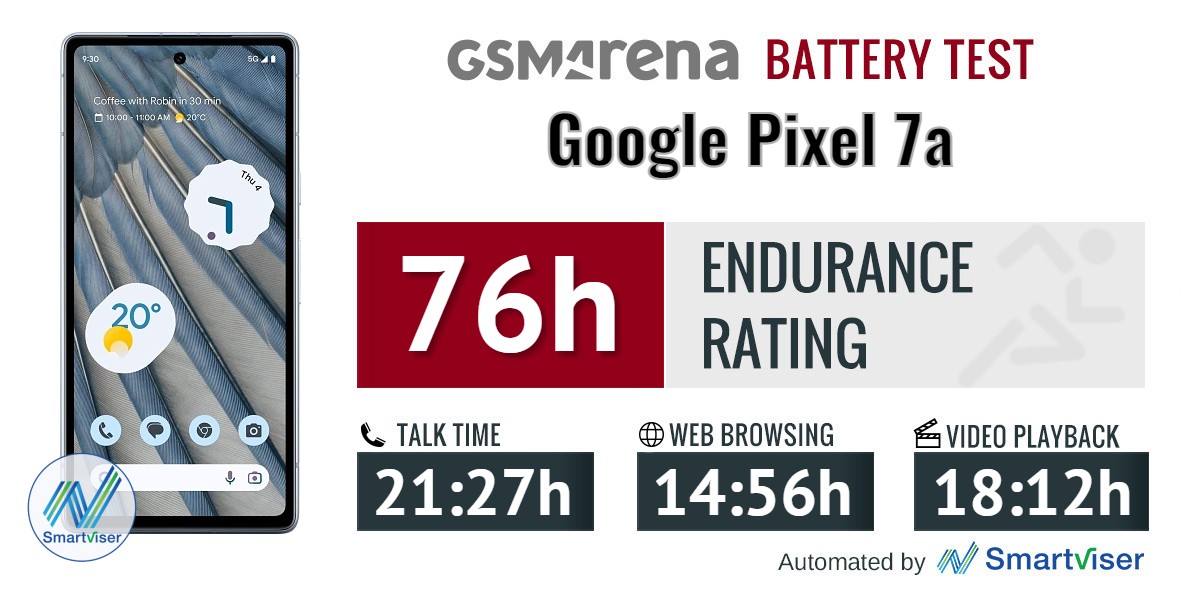 Our battery tests were automated thanks to SmartViser, using its viSerDevice app. The endurance rating denotes how long the battery charge will last you if you use the device for an hour of telephony, web browsing, and video playback daily. More details can be found here.
Video test carried out in 60Hz refresh rate mode. Web browsing test done at the display's highest refresh rate whenever possible. Refer to the respective reviews for specifics. To adjust the endurance rating formula to match your own usage - check out our all-time battery test results chart.
Charging speed
Charging speed isn't a strong suit of the 'big' Pixels, and the Pixel 7a is one level below them still. Google specifies a maximum power rating of 18W and in our testing the power meter actually peaked at 18.7W when using Google's official 30W adapter, so that's sort of a win.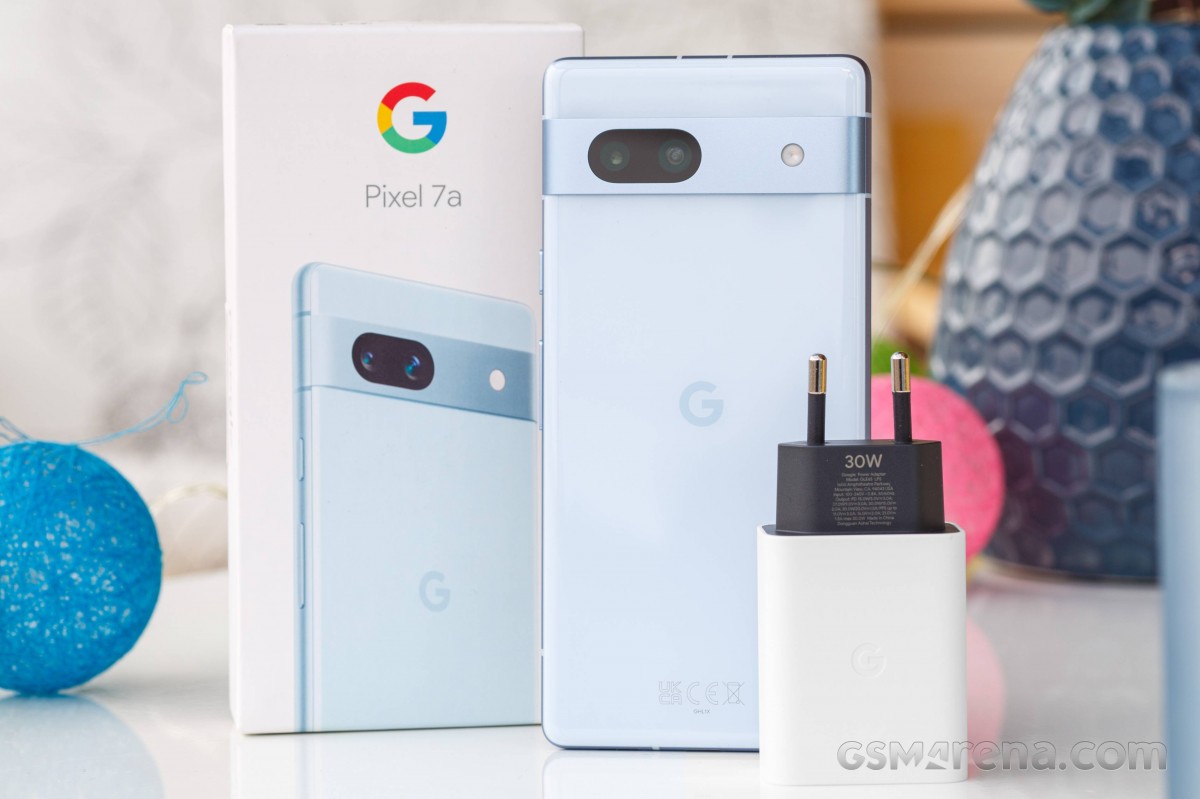 But ultimately, the Pixel 7a returned pretty mediocre numbers for charging speed, with just 36% showing in the battery indicator at the half hour mark. Getting from flat to 100% required just under two hours and it then took another 20mins of trickle charging to reach a reported 'full' state. With those results, the 7a is among the slowest charging phones, particularly for the money.
15min/30min charging test (from 0%)
Higher is better
Sort by
15 min time
30 min time
Motorola Edge 40

92%

58%

Xiaomi 13 Lite

83%

46%

Apple iPhone 13 mini

61%

44%

Apple iPhone SE (2022)

61%

N/A

Galaxy S23

57%

30%

Galaxy A54

56%

30%

Galaxy S21 FE 5G

51%

N/A

Google Pixel 7

48%

25%

Nothing phone (1)

48%

N/A

Google Pixel 7 Pro

46%

24%

Google Pixel 6a

42%

N/A

Sony Xperia 10 V (65W PD)

37%

20%

Google Pixel 7a

36%

20%
* Tap/hover over the device names for more info
Time to full charge (from 0%)
Lower is better
| | |
| --- | --- |
| Motorola Edge 40 | 0:40h |
| Xiaomi 13 Lite | 0:42h |
| Galaxy A54 | 1:03h |
| Galaxy S21 FE 5G | 1:15h |
| Galaxy S23 | 1:16h |
| Apple iPhone SE (2022) | 1:18h |
| Apple iPhone 13 mini | 1:24h |
| Nothing phone (1) | 1:31h |
| Google Pixel 7 | 1:40h |
| Google Pixel 7 Pro | 1:49h |
| Google Pixel 6a | 1:51h |
| Google Pixel 7a | 1:57h |
| Sony Xperia 10 V (65W PD) | 1:58h |
* Tap/hover over the device names for more info
In a first for a Pixel 'a' model, the 7a supports wireless charging. There's no listing for it on the WPC website, and there's no mention of the maximum power the 7a can take in the official specs, but the internet appears to have settled on 7.5W. Regardless of what the actual number is, it won't make a world of a difference when overnighting your phone, which in our minds is the key use case for wireless charging.
Speaker test
The Pixel 7a's speaker setup is the usual hybrid stereo arrangement with a 'main' unit firing out of the bottom of the phone and the earpiece acting as the second channel. The top speaker is assigned the left channel in portrait, while in landscape, the channels will be adjusted to match the actual orientation.
Both speakers will also output the opposite channel's track, albeit at a much attenuated volume. The bottom speaker is slightly louder than the top one, but it's not an imbalance you can easily pick up with real-life content.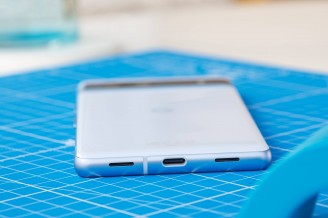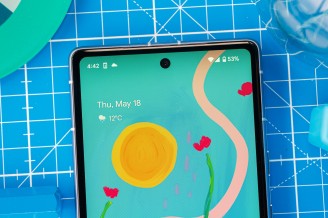 Bottom speaker (the left slot in this photo) • Top speaker/earpiece
The Pixel 7a earned the same 'Good' rating for loudness as the 7 in our testing, both a notch below the 7 Pro. Oddly enough, the 7 and 7a sound a little different despite the similar scores and it's the 7a that produces the 'fuller' sound. It's not the best set of speakers, but it's one of the better ones for the money.
Use the Playback controls to listen to the phone sample recordings (best use headphones). We measure the average loudness of the speakers in LUFS. A lower absolute value means a louder sound. A look at the frequency response chart will tell you how far off the ideal "0db" flat line is the reproduction of the bass, treble, and mid frequencies. You can add more phones to compare how they differ. The scores and ratings are not comparable with our older loudspeaker test. Learn more about how we test here.
Pixel-specific Android 13
One of the main reasons to get a Pixel is its software, and the 7a is the easiest entry into that club. There are other makers that offer a 'stock' Android experience, but the Pixel way is different. You get a streamlined UI without heavy customization but with some Pixel-exclusive features that make Google devices stand out.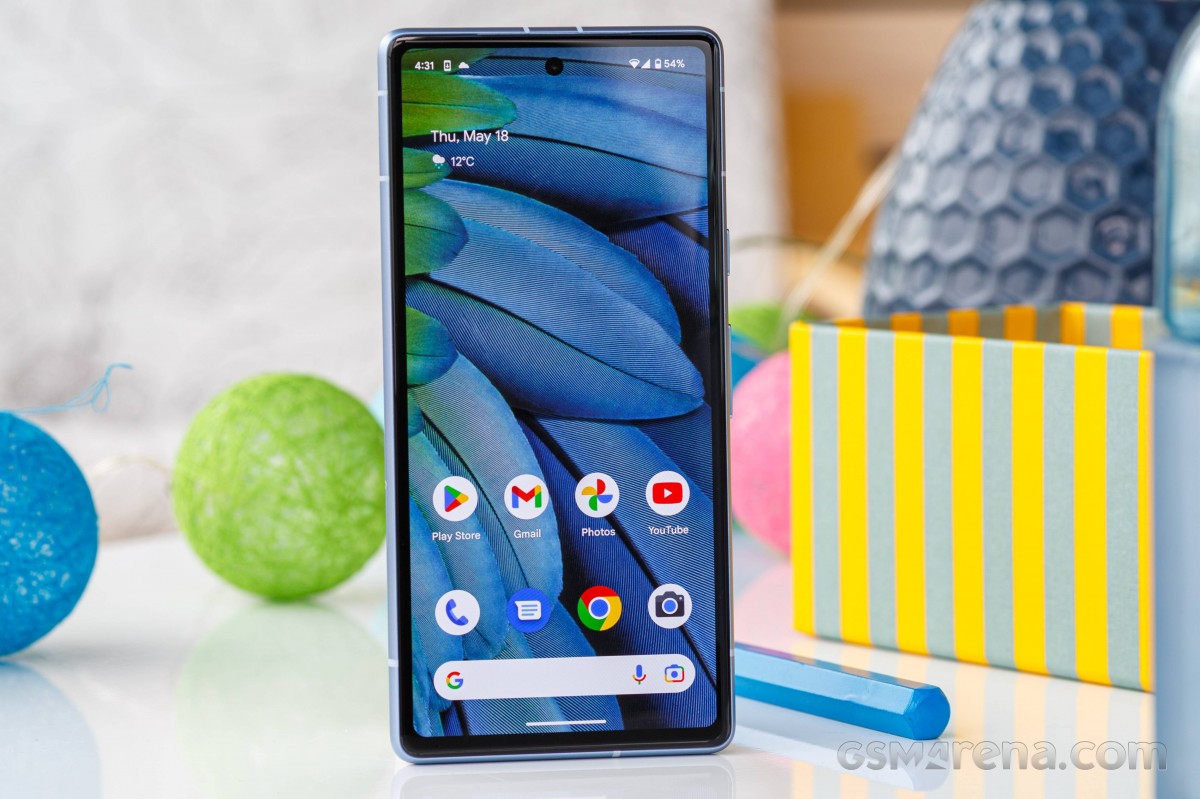 Naturally, the 7a is running the latest Android 13, which leads us to the next big advantage - updates. Google Pixel phones offer the fastest Android updates on the market, and the company promises at least three years of major Android updates and 5 years of security patches.
If you are familiar with the stock Android look, you will easily feel right at home. The quick toggles are pill-shaped, and there's still no toggle for adaptive brightness - a long-standing omission.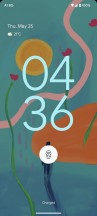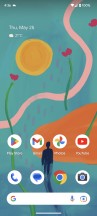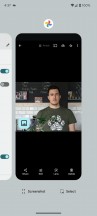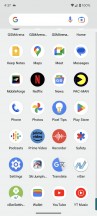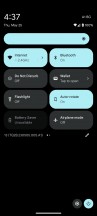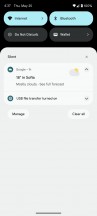 Lock screen • Home screen • Recent apps • App drawer • Quick toggles • Notification shade
One of the biggest recent additions to stock Android is support for theming - at least in terms of color - of the icons too. Music players now change their appearance based on the album art too. Last but not least, swiping up from the home screen opens up the app drawer along with the keyboard for an instant search - though if that's not how you like to operate your app drawer, you can disable the auto keyboard behavior.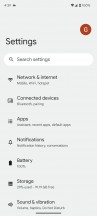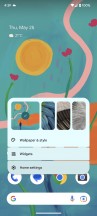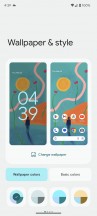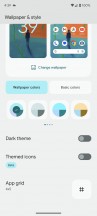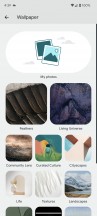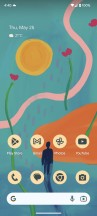 General settings • Wallpaper and theming
What Google excels at is services. The company is able to leverage its advancements in machine learning and AI to come up with some nifty features. This includes things like Call Screen which uses Google Assistant to answer calls from unknown numbers to filter out spammers, Direct My Call for navigating automated calling systems using a visual UI, Now Playing for identifying songs playing nearby even when offline, Top Shot for recommending a better shot when you take a slightly blurry one, Face Unblur, and more. These features remain exclusive to the Pixel series and Google often adds new ones through its Pixel Feature Drops.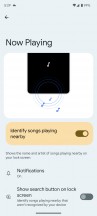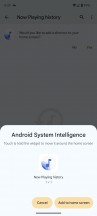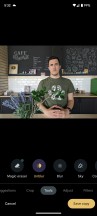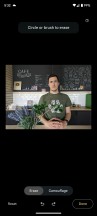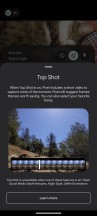 Now Playing • Face Unblur • Magic Eraser • Top shot
Performance and benchmarks
For another generation, the Pixel 'a' model comes with the same chipset as the regular, 'high-end' Pixels. It's an SoC that's not up to the same high standard as the ubiquitous Qualcomm top-tier Snapdragon, and that puts the Pixel 7 and 7 Pro at somewhat of a disadvantage. But where the Pixel 7a stands, the Tensor G2 is a relative powerhouse, particularly in the GPU field, and that's before considering its hard to quantify AI capabilities.
What's less than ideal is that the 7a only comes with one storage option and 128GB may be limiting for some users. That is one of few advantages you get by going for a Pixel 7 - it can be had with 256GB or storage. The 8GB of RAM on the 7 and 7a don't feel inadequate, and it's only the 7 Pro that gets a 12GB option.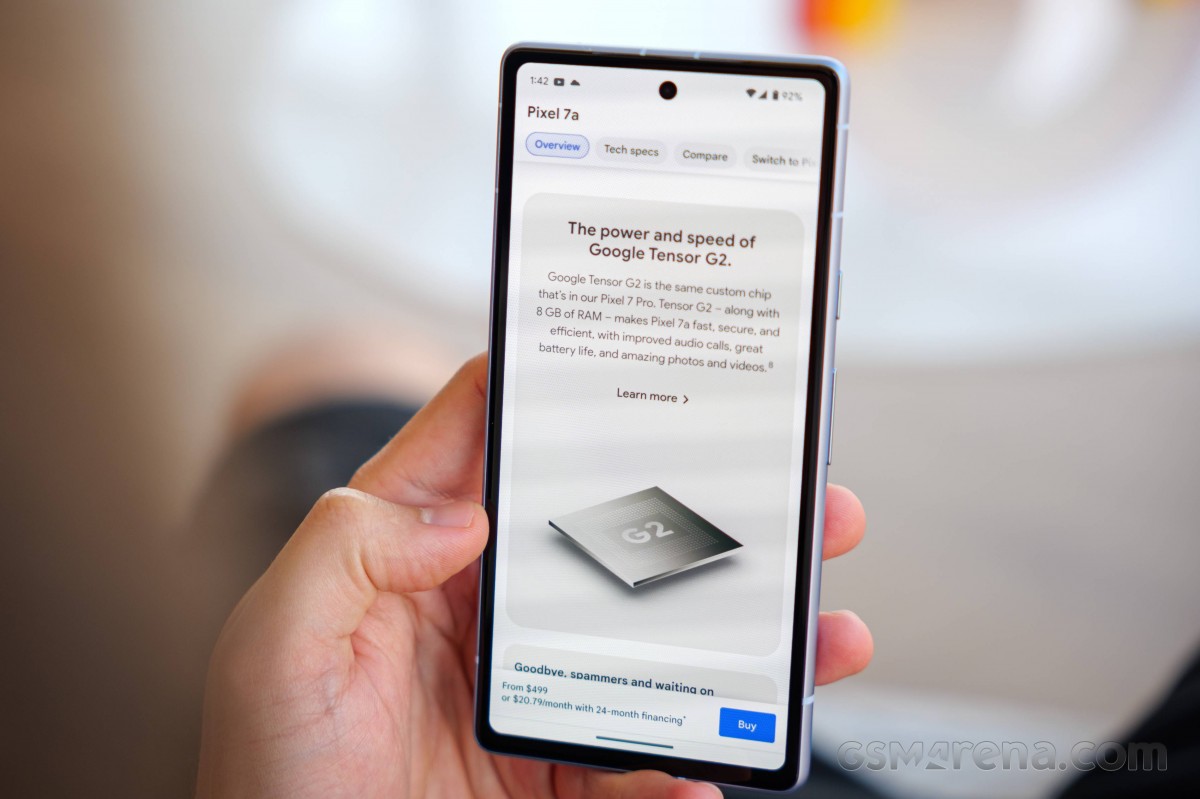 Indeed, the Pixel 7a puts out very high benchmark results for its class, though a recent midrange Snapdragon does still manage to come up on top. We're talking about the SD 7+ Gen 2, represented here by the Poco F5, which comfortably outscores the Tensor G2 in the Pixel 7a in both single-core and multi-core GeekBench.
The Pixel is still way ahead of the Motorola Edge 40 (Dimensity 8020), Nothing Phone (1) (SD 778G+), and Galaxy A54 (Exynos 1380) under single-threaded loads, and maintains a small advantage in multi-core against the Phone (1) and the A54.
GeekBench 5 (single-core)
Higher is better
Poco F5




1216

Galaxy S21 FE 5G




1096

Google Pixel 7 Pro




1056

Google Pixel 7




1051

Pixel 7a




1051

Google Pixel 6a




1047

Nothing Phone (1)




820

Motorola Edge 40




799

Xiaomi 13 Lite




795

Galaxy A54




770

Sony Xperia 10 V




667
GeekBench 5 (multi-core)
Higher is better
Poco F5




3939

Motorola Edge 40




3320

Google Pixel 7




3288

Pixel 7a




3191

Google Pixel 7 Pro




3187

Galaxy S21 FE 5G




3049

Nothing Phone (1)




3024

Xiaomi 13 Lite




2936

Google Pixel 6a




2876

Galaxy A54




2703

Sony Xperia 10 V




1897
The balance of power remains similar in Antutu, with the Pixel 7a staying ahead of key rivals. The Poco F5 may not be a direct competitor, but if a bigger name adopts the SD 7+ Gen 2, things won't look quite as rosy for the Pixel.
AnTuTu 9
Higher is better
Poco F5




931174

Google Pixel 7




813114

Google Pixel 7 Pro




796369

Pixel 7a




765281

Galaxy S21 FE 5G




719696

Google Pixel 6a




712092

Motorola Edge 40




688347

Nothing Phone (1)




592789

Xiaomi 13 Lite




534143

Galaxy A54




506678

Sony Xperia 10 V




357142
The Tensor G2's GPU can stand up better to that of the latest Qualcomm midrange chip and the Pixel 7a shows excellent fps numbers for the class in GFXBench, particularly in the onscreen runs. The Poco still takes the lead in the tests' offscreen counterparts. The Moto and the Galaxy are nowhere near the Pixel's results.
GFX Aztek ES 3.1 High (onscreen)
Higher is better
Pixel 7a




50

Google Pixel 7




49

Poco F5




48

Google Pixel 6a




47

Galaxy S21 FE 5G




38

Motorola Edge 40




33

Google Pixel 7 Pro




26

Nothing Phone (1)




23

Xiaomi 13 Lite




23

Galaxy A54




19

Sony Xperia 10 V




11
GFX Aztek Vulkan High (onscreen)
Higher is better
Pixel 7a




49

Poco F5




48

Google Pixel 7




46

Google Pixel 6a




39

Galaxy S21 FE 5G




38

Motorola Edge 40




31

Google Pixel 7 Pro




25

Nothing Phone (1)




23

Xiaomi 13 Lite




23

Galaxy A54




19

Sony Xperia 10 V




11
GFX Car Chase ES 3.1 (onscreen)
Higher is better
Poco F5




66

Pixel 7a




62

Google Pixel 7




59

Galaxy S21 FE 5G




56

Google Pixel 6a




51

Motorola Edge 40




43

Google Pixel 7 Pro




34

Nothing Phone (1)




33

Xiaomi 13 Lite




33

Galaxy A54




25

Sony Xperia 10 V




16
GFX Aztek ES 3.1 High (offscreen 1440p)
Higher is better
Poco F5




33

Pixel 7a




32

Google Pixel 7




31

Google Pixel 7 Pro




29

Google Pixel 6a




29

Galaxy S21 FE 5G




24

Motorola Edge 40




21

Nothing Phone (1)




15

Xiaomi 13 Lite




15

Galaxy A54




13

Sony Xperia 10 V




7.8
GFX Aztek Vulkan High (offscreen 1440p)
Higher is better
Poco F5




36

Pixel 7a




33

Google Pixel 6a




32

Google Pixel 7




31

Google Pixel 7 Pro




30

Galaxy S21 FE 5G




25

Motorola Edge 40




20

Xiaomi 13 Lite




17

Nothing Phone (1)




16

Galaxy A54




13

Sony Xperia 10 V




8.1
GFX Car Chase ES 3.1 (offscreen 1080p)
Higher is better
Poco F5




77

Google Pixel 7




66

Google Pixel 6a




66

Pixel 7a




64

Google Pixel 7 Pro




63

Galaxy S21 FE 5G




57

Motorola Edge 40




50

Xiaomi 13 Lite




39

Nothing Phone (1)




37

Galaxy A54




31

Sony Xperia 10 V




19
The results in 3DMark cement the Pixel 7a's superiority over its rivals. The SD 7+ Gen 2-equipped Poco is, once more, ahead of the Google phone.
3DMark Wild Life Vulkan 1.1 (offscreen 1440p)
Higher is better
Poco F5




7524

Pixel 7a




6646

Google Pixel 7




6569

Google Pixel 7 Pro




6470

Google Pixel 6a




6066

Galaxy S21 FE 5G




5432

Motorola Edge 40




4476

Xiaomi 13 Lite




2969

Nothing Phone (1)




2921

Galaxy A54




2818

Sony Xperia 10 V




1205
3DMark Wild Life Extreme (offscreen 1440p)
Higher is better
Poco F5




1961

Pixel 7a




1859

Google Pixel 7




1848

Google Pixel 7 Pro




1835

Motorola Edge 40




1261

Xiaomi 13 Lite




828

Galaxy A54




808

Sony Xperia 10 V




358
The Tensor G2 isn't exactly renowned for its stability under sustained load and the 7a's results in both the CPU throttling test and the 3DMark Wild life stress test reflect that - both tests returned stability scores in the 60s. For what it's worth, at least the ramp down in performance is very gradual.
Entirely new camera setup, same app
The Pixel 7a has camera hardware that we haven't seen on a Pixel phone - not as a whole, and, as best as we can tell, not even the individual modules have been seen on Google's lineup before. The setup is headlined by a 64MP main unit, the first Quad Bayer-type sensor on an a-series phone, joined by a 13MP ultrawide camera. Over on the front, another 13MP camera is in charge of selfies.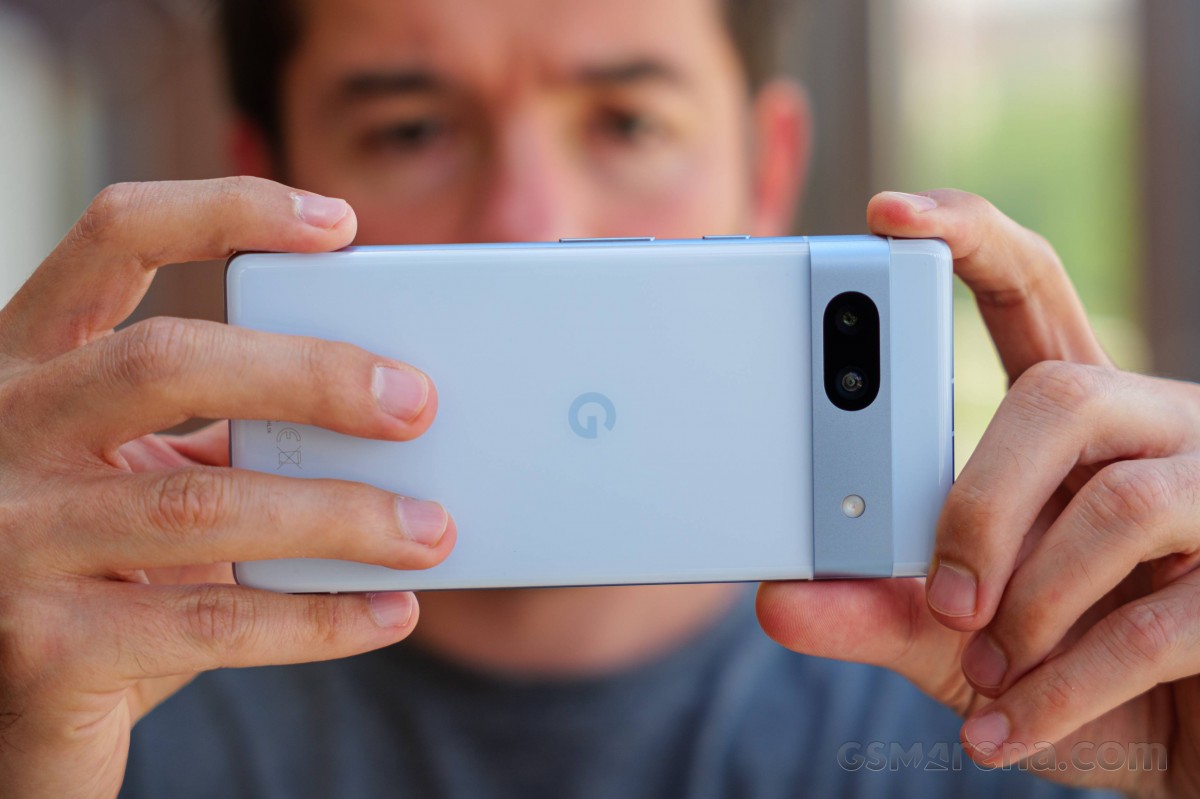 Google specifies that the primary camera's 64MP sensor is Quad Bayer with Quad PD autofocus and that's a strong indication it's a Sony sensor, even though it's not listed explicitly and hardware apps don't report which one it is precisely. It's got a 1/1.73" optical format and 0.8µm pixel pitch, resulting in 16 million of 1.6µm effective pixels.
The lens has an f/1.9 aperture (Google specs say f/1.89) and a specified field of view of 80 degrees, which translates to an equivalent focal length of just under 26mm, but the EXIF data reads 25mm. This lens is stabilized.
The ultrawide camera relies on a similarly unnamed sensor with a 13MP nominal resolution and 1.12µm pixel size. That translates to a 1/3.06" or thereabouts optical format that Google chose not to list in its specs. Google says the field of view is 120 degrees on this one and the aperture is f/2.2. There's no autofocus, which is to be expected since the 7 doesn't have it, leaving only the 7 Pro with close-up shooting capabilities.
The front facing camera is using a very similar sensor but, by the looks of it, it is a different one. It, too, has 13MP resolution and 1.12µm pixel size, but some of the other numbers don't quite check out. The lens has a 95-degree FoV, or a 20mm equivalent focal length and an f/2.2 aperture. No autofocus here either, but it's not like the 7 or 7 Pro have it.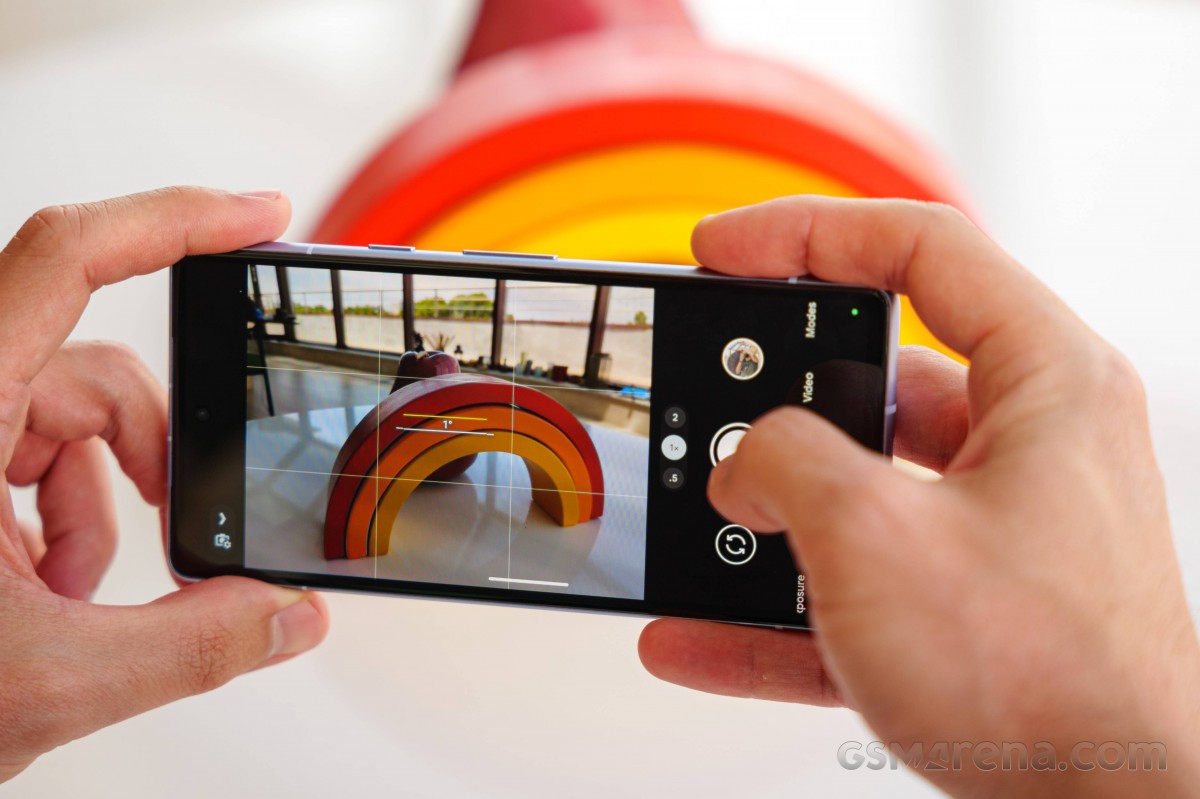 The camera app on the Pixel 7a is the same as on the 7 and 7 Pro, though there may be a feature or two missing. Tapping somewhere in the viewfinder will make a bunch of sliders show up - for white balance, shadow, and light. You can disable the lot of them, if you prefer.
A cog button in the far corner opens up a menu with the most important settings (Auto Night Sight, Top Shot, self timer and aspect ratio), and from there you can access a more extensive settings menu. It's in there that you'll find the option to shoot RAW. There's no setting or mode to make the Pixel 7a shoot at the main sensor's native 64MP resolution, just as there wasn't on the other models.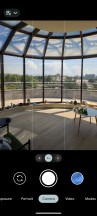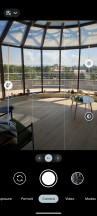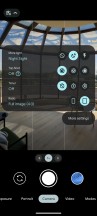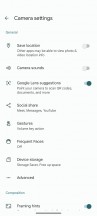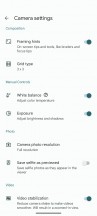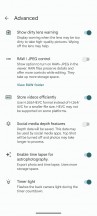 Viewfinder • Sliders • Quick settings • Settings • More settings • Advanced settings
The app will always default to the 'Camera' photo mode. From left to right, the shooting modes are: Night Sight, Long Exposure, Portrait, Camera, Video, and Modes, which lets you access the Panorama, Photo Sphere, and Google Lens modes. You can't rearrange the modes, which is an annoying limitation.
You'll note that Long Exposure is in place of where the 7 and 7 Pro had Motion mode, which included Long Exposure and Action Pan. So there's no Action Pan on the 7a. Also missing is the 7 Pro's Macro mode, on account of the 7a's lack of autofocus on the ultrawide.
A long press on the gallery shortcut next to the shutter release lets you decide whether to save photos and videos to the Photo Gallery or the Locked Folder. Just above the gallery circle, an arrow will pop up after you take a shot, letting you quickly share what you just captured.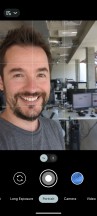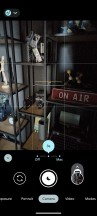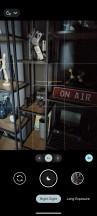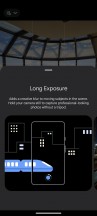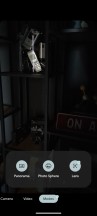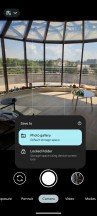 Portrait mode • Auto Night Sight • Night Sight • Long Exposure • Modes • Storage location
Daylight photo quality
Photos taken on the Pixel 7a's main camera in good light are excellent, as expected. 7, 7a, or 7 Pro, you can count on a certain specific rendition of scenes that transcends the label on the box. The way the Pixels capture color is both vibrant and true-to-life and it was giving us consistently accurate white balance. Dynamic range is wide, but there's that reluctance to boost shadows that makes for a particularly contrasty aesthetic - in a good way.
Detail is presented in a mature way without excessive sharpening. In that respect, in can be argued that the 7a is actually superior to its more expensive stablemates thanks to the extra resolution - 16MP vs. 12.5MP is not a negligible difference.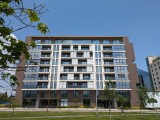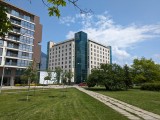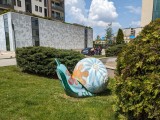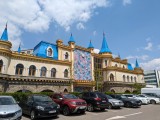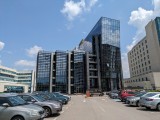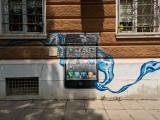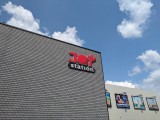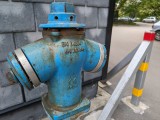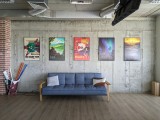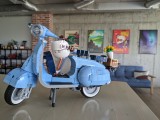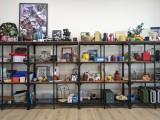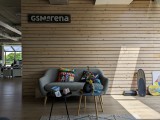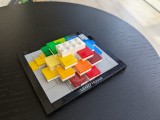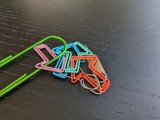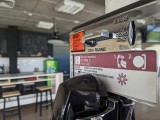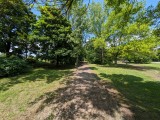 Daylight samples, main camera (1x)
The 7a does a fine job of zooming in digitally with that 64MP sensor - to the modest 2x that its viewfinder controls suggest, at least. Viewed at 1:1, these aren't the sharpest results you get, but as phones without dedicated zoom cameras go, they're above average.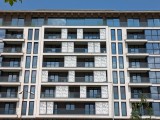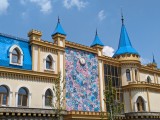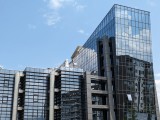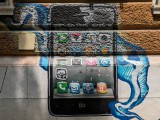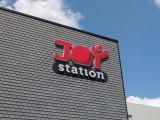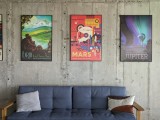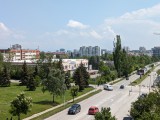 Daylight samples, main camera (2x zoom)
The ultrawide doesn't disappoint either - well, other than its lack of AF, but that was already clear from the specsheet. Its images have excellent sharpness and detail, some of the best you can get at this level, and that's coming from hardware that's not in any way impressive on paper. Global parameters are very consistent with the main camera's output so you get the same colors and contrasty but well developed tonal rendition.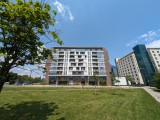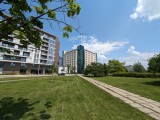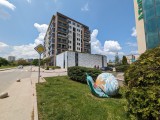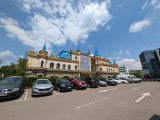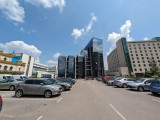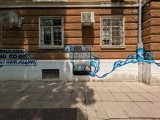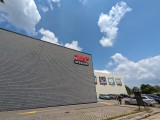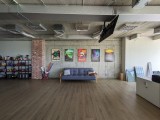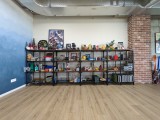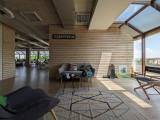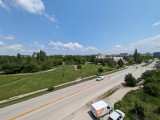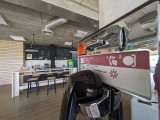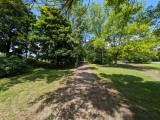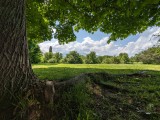 Daylight samples, ultrawide camera (0.5x)
Low-light photo quality
The Pixel 7a, as every recent Pixel and the bulk of midrangers and up, applies Night mode (Night Sight in this case) in the regular Photo mode (well, Camera mode here) when it deems it necessary. There are nuances in that there are scenes where it doesn't kick in for the main camera, but does for the ultrawide, or instances where the phone doesn't trigger it and you think it should.
But those are rare occurrences and the phone knows very well what it's doing. Plus, you do get the option to override its decisions by either going to the dedicated Night Sight mode when you want to ensure you get it, or disabling the Auto behavior in Camera mode when you want to avoid it.
Main camera
With that said, the results we got on the main camera were essentially identical between Camera mode with Auto Night Sight enabled and the dedicated Night Sight mode. The 7a follows in the footsteps of the 7 and 7 Pro and doesn't apply its Night Sight magic too liberally - you'll note that point light sources still get clipped and shadows are on the darker side of average. If we had to choose, we'd probably opt at least for better developed shadows, but there is the (valid) counter argument that the Pixel's approach is more photographic and true-to-life.
Colors remain expressive at night as well, and the auto white balance handled all sorts of artificial lighting without a hiccup.
Detail is very good, without the watercoloring characteristic of some earlier Night mode efforts that we occasionally still see today.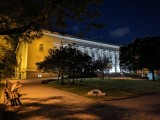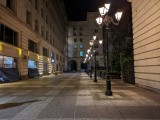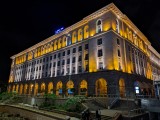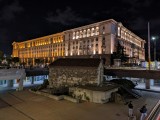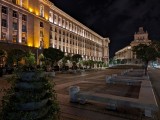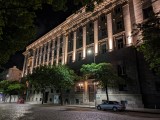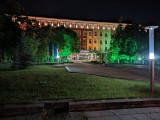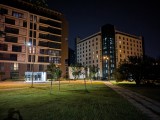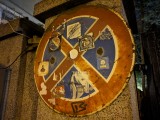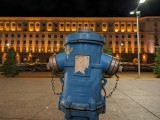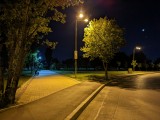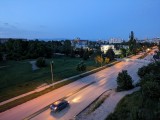 Low-light samples, main camera (1x), Auto Night Sight
Here's how the scenes look when shot in Night Sight mode.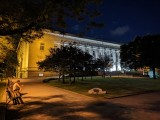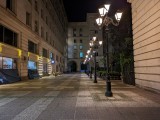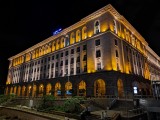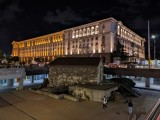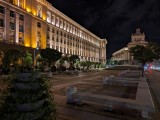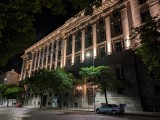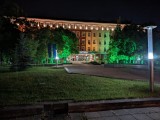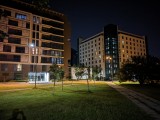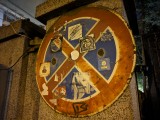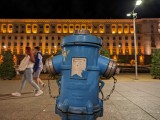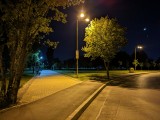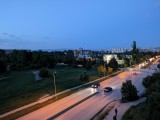 Low-light samples, main camera (1x), Night Sight
If you turn off Night Sight, there will be consequences. Details can get softer, especially in darker areas. And there will likely be more darker areas too - the darker the scene, the more likely it is to end up underexposed. Normally, we would keep Night Sight on.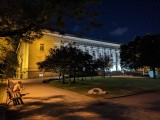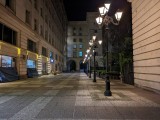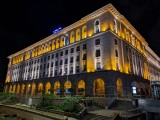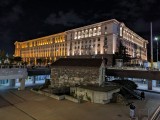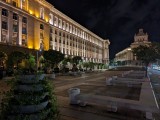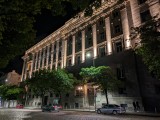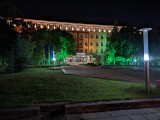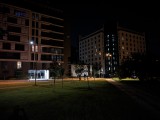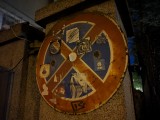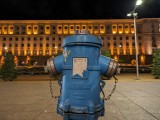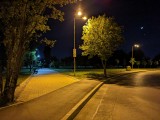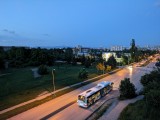 Low-light samples, main camera (1x), Auto Night Sight OFF
Main camera, 2x zoom
There's practically no change in the 7a's behavior when you zoom in to 2x, with the results remaining the same between Night Sight-assisted photos from either mode. Again, we'd say these are superior to what most phones can deliver without a dedicated 2x camera, and likely better than some lesser actual 2x cameras.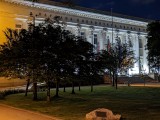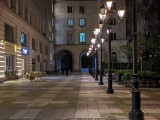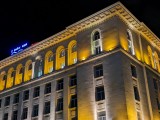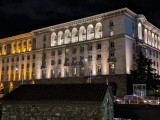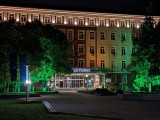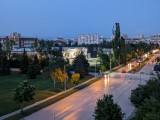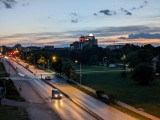 Low-light samples, main camera (2x zoom), Auto Night Sight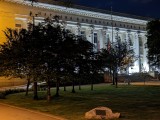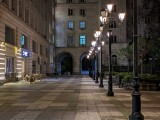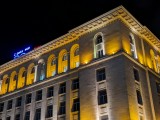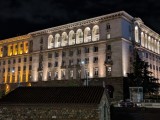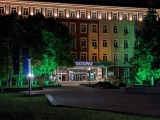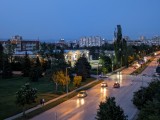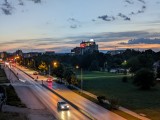 Low-light samples, main camera (2x zoom), Night Sight
The Night Sight-less counterparts aren't dramatically worse, but there are some differences, mostly in the muddier shadow details.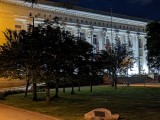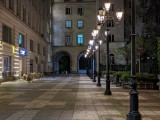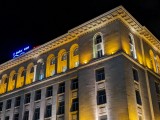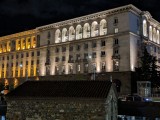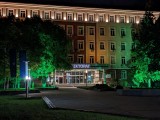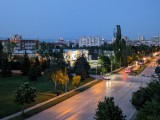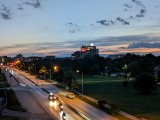 Low-light samples, main camera (2x zoom), Auto Night Sight OFF
Ultrawide camera
The utlrawide's results in the dark are solid too. Once again, we're getting that contrasty tonal rendition with shadows that could use a nudge and slightly burnt highlights, but it's a look that works for the Pixel. Colors are excellent, with no loss of pop or odd white balance choices. Detail is very good too and we'd almost call it impressive given the smallish sensor.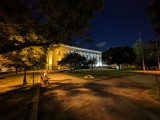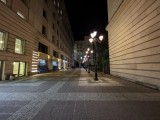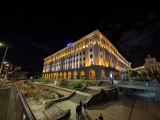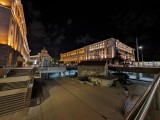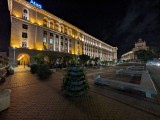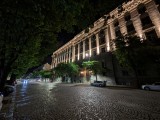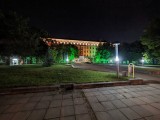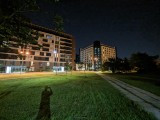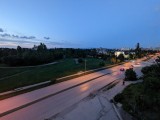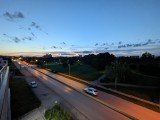 Low-light samples, ultrawide camera (0.5x), Auto Night Sight
Once again, there's no difference in the dedicated Night Sight mode.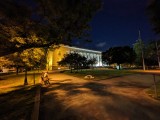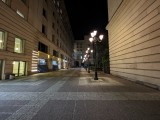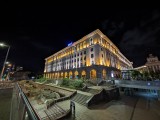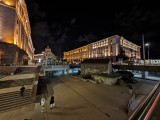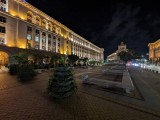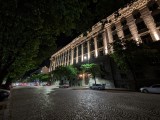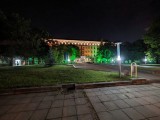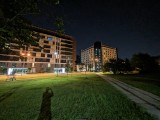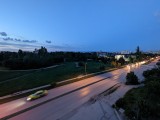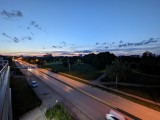 Low-light samples, ultrawide camera (0.5x), Night Sight
And, sure enough, if you turn off Night Sight, you'd end up with underexposed and generally noisier ultrawide shots.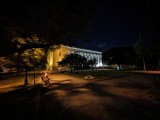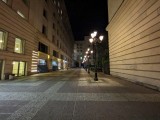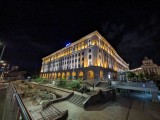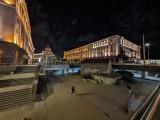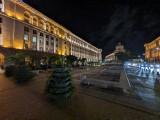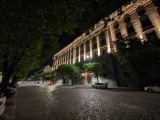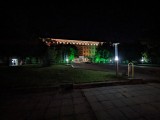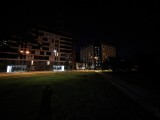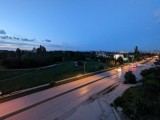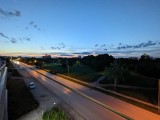 Low-light samples, ultrawide camera (0.5x), Auto Night Sight OFF
Once you're done with the real world samples, head over to our Photo compare tool to see how the Google Pixel 7a stacks up against the competition.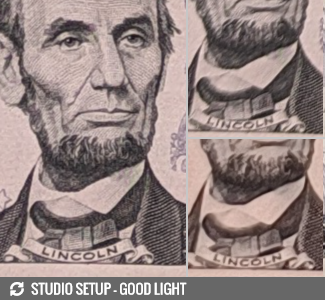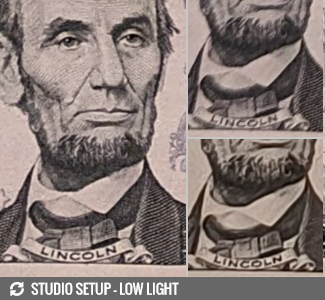 Google Pixel 7a against the Pixel 7 and the Motorola Edge 40 in our Photo compare tool
Portrait mode
Portrait mode on the Pixel 7a works in the same idiosyncratic way as it does on the 7 and 7 Pro when it comes to magnifications. Both the 1x and 2x levels in the viewfinder are captured on the main camera, of course, but they correspond to something like 1.7x and 3.4x if you match their field of view in Camera mode. If you were to tap on the 2x zoom in Camera mode and then switch to Portrait mode, the Phone will be at 1.2x in Portrait mode (which will match the FoV of the 2x in Camera mode).
We understand that to be a manifestation of the Pixels' most welcome behavior not to default to 1x whenever you switch between modes, but to maintain whatever magnification you were at. It can still be a bit disconcerting when you switch between Camera and Portrait and get zoom level notations that weren't there before.
The results from the 1x Portrait mode are okay. Subject detection is mostly good and the background blur level is well judged. There can be random spots of softness on the subject's face, however, and even without them the subject isn't pin sharp as a result of the upscale process.
The images taken at the 2x Portrait level are bad in numerous ways - so much so that we'd consider them not... presentable, unless you use them at very small sizes, where the lack of detail on the subject isn't going to show. That said there were instances, where the Pixel simply wouldn't apply any background blur, even though the Google Photos says the photo is technically a 'portrait'.
We also shot the same scenes in the regular Camera mode at 1x, which does provide a wider field of view than the Portrait's 1x. These are naturally higher-quality in terms of pixel-level detail, though we still observed some random blobs of softness on the subject's face.
Selfies
Some of that aversion to sharp faces transfers into selfies where we got one cheek softer than the other more often than not. Not that the sharp side is all too sharp to begin with, having the focus fixed somewhere in the distance as opposed to arm's length. We guess that's an extension of the camera's wide-angle shooting capabilities - if you want a lot in the frame, you probably want it in focus. Still, we think that having yourself in focus is essential for, you know, selfies.
It's not all complaints though - colors in general and skin tones in particular are great, and dynamic range is nice and wide even in very demanding lighting conditions.
Video recording
The Pixel 7a records video up to 4K60 on its main camera (even at 2x zoom), while the ultrawide is capped at 4K30 and you need to resort to 1080p if you want 60fps ultrawide capture. The selfie camera maxes out at 4K30 as well, and it can do 1080p60 too.
The default codec on the Pixel is the more efficient h.265, perhaps as a result of 128GB being the only available storage option. Still, you can flip a toggle in settings to use h.264 instead.
That said, the 7a does use a very generous bit rate of around 42Mbps for 4K30 with the h.265, which is the ballpark of what other phones have for h.264 for that mode. Similarly to other Pixel 7s, 4K30 with h.264 weighs in at 47Mbps which is obviously only slightly more. 4K60 gets 62Mbps on the 7a (again, using h.265). Audio is encoded in stereo, at 192kbps.
After all that talk about bit rates, and despite the promising numbers, the Pixel 7a's detail capture in 4K isn't that great. That's irrespective of whether you're using h.264 or h.265 - both look the same. It's not bad, it's just not as good as on the Pixel 7, and for no apparent reason. Looking from afar, the vivid colors are on point, so that's good.
Contrast is high, perhaps a touch too high for harsh midday light, leaving shadows darker than we'd like. While that's mostly the same as stills so you can call it Pixel's way of doing things, stills are easier to manipulate than video, should you desire to play around with exposure after the fact.
Shooting in 4K at 2x zoom level won't get you very likeable footage in terms of detail - if the native FoV didn't look too sharp, the digitally zoomed 2x didn't stand much chance.
After that rocky start, the ultrawide puts things on the right path and makes for a surprisingly good impression. Detail is as good as on the 'proper' Pixels and is possibly the best in the 7a's class. Global parameters remain fairly consistent with the main camera's, so we're looking at excellent colors, though the high contrast does mean some black shadows.
Stabilization is available in all modes on all cameras, and there are several flavors of it, some tailor-made for specific use cases, which introduce mode-specific limitations. These are all the same as on the more expensive Pixels.
The Standard stabilization mode isn't perfect on the main camera, and there's some residual shake left from walking. Even when simply pointing the camera in one direction, there are some fine tremors. The ultrawide doesn't suffer from either issue, which is nice. Both cameras pan smoothly without abrupt transitions.
In low light, the Pixel 7a's video performance is alright. What was already not the sharpest main camera footage in daylight gets softer in the dark. Colors and dynamic range remain respectable for the conditions and the price range, though we'd appreciate a bit of an exposure boost.
The ultrawide's low-light capture is soft and noisy, but not more so than on competitors - in fact, it's possibly among the better ones in the class.
Here's a glimpse of how the Google Pixel 7a compares to rivals in our Video compare tool. Head over there for the complete picture.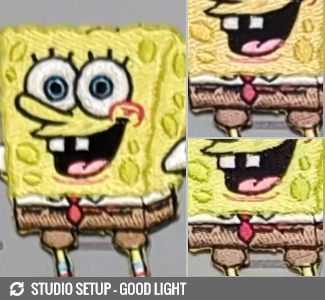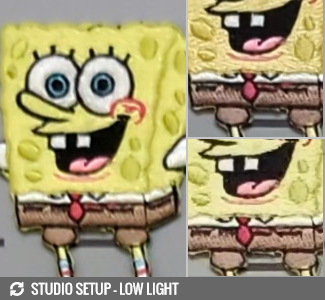 Google Pixel 7a against the Pixel 7 and the Motorola Edge 40 in our Video compare tool
Competition
The Pixel 7a comes in at $500/€510 and that's quite a heavily contested market segment. Google doesn't like to sell its phones in more than a handful of markets though, so if you're outside the select few countries with Pixel presence, things will be easily settled for you. But if Pixels are on the table, there will be some thinking to do.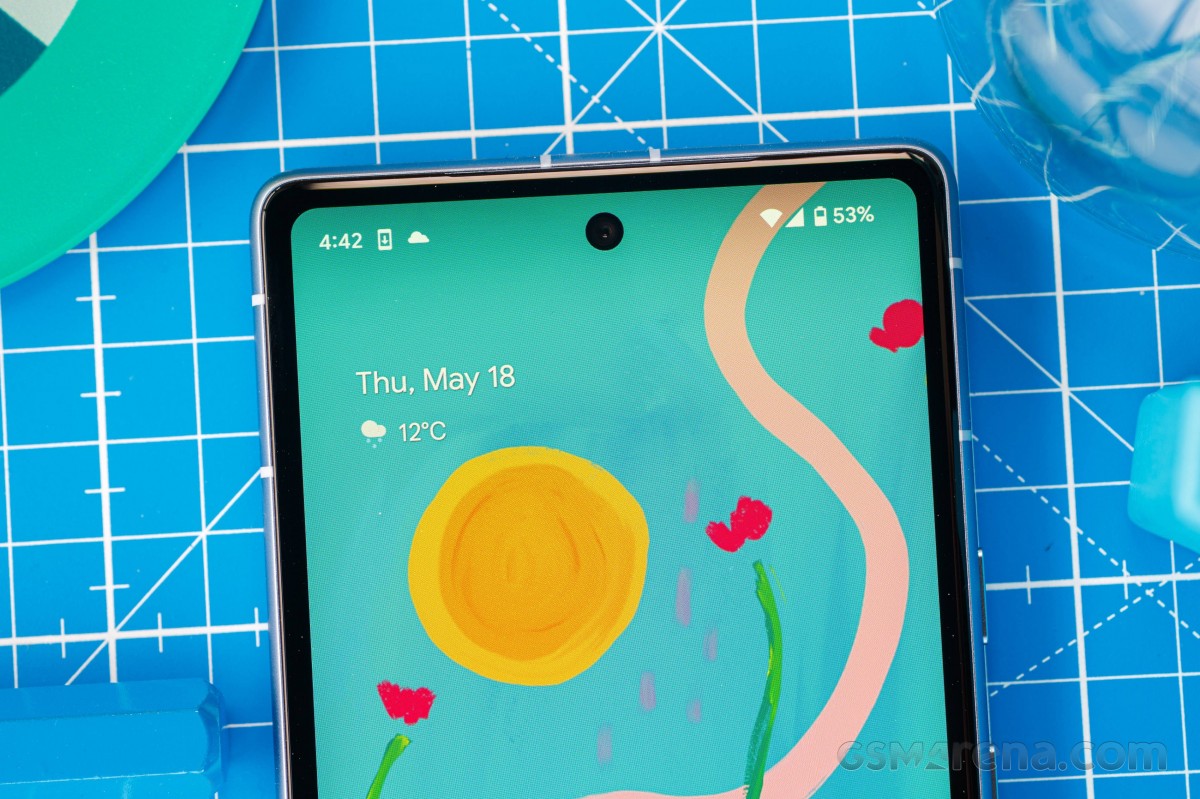 For starters, you'll need to consider the 7a's in-house competition - an easy enough task. While it remains on sale, the 6a comes with a dated 60Hz display, previous-gen chipset, inferior camera and no wireless charging - we reckon the extra $100/€100 for the 7a are well worth spending. That said, we're seeing $350/€350 promotional price tags on the 6a, and that calls for some more serious cost/benefit analysis.
It's probably easier against the Pixel 7 - basically, if you don't need more on-board storage than the 128GB 7a gives you, the 7 doesn't really have much to justify the $100/€100 premium. And, technically, if you do insist on the 256GB of storage, you'd be looking at a $200/€200 extra over the 7a, which seems like a lot of money to pay for a storage upgrade.
The 7 Pro has gotten some heavy discounts, particularly in Europe, but it's still a good deal more expensive than the 7a, so it doesn't feel right to consider it an alternative to the 7a.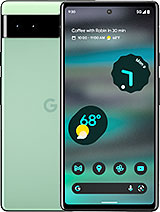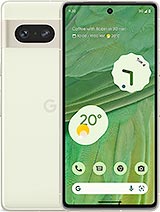 Google Pixel 6a • Google Pixel 7
Outside of Google's own roster, the very recent Motorola Edge 40 sounds like a very enticing alternative to the 7a. Sort of a 'stock' Android experience, but with Motorola's own proprietary additions, the Edge 40 is similar, yet different enough to attract its own crowd thanks in part to the PC-like 'Ready For' functionality. It's not really worse at anything, while being at least as good and often better than the Pixel in key areas - AF-enabled ultrawide, proper fast charging, way higher refresh rate display, actually good selfies, 256GB of storage. The Edge 40 is also as close as you can get to a capable midranger that's also compact - something the Pixel 'a' can no longer claim.
The Moto does have a higher MSRP at launch, and it could be argued it's worth the added cost. But we feel like its price is going to come down to Pixel 7a levels soon enough, and, unless you're dead-set on having Pixel software, the Edge 40 sounds like the overall better package.
There's no need to wait for a price drop with the Galaxy A54 - that's already going for $100/€100 below Pixel 7a's price. The biggest concession with the Galaxy would be performance - its mid-tier Exynos can't quite match the Pixel's kinda-flagship Tensor. The Galaxy does score a few small victories, like having expandable storage and longer battery life. We'd pick the Pixel for its cameraphone prowess, and the Galaxy if you're after more of generally good smartphone.
The Nothing Phone (1) is another alternative that runs cheaper than the Pixel - at about the A54's level. Alongside the savings, the blinky LED back of the Phone (1) is a major selling point, irrational as it may sound, but Nothing's first... phone is not without objective merits. While we wouldn't say it's dramatically better than the 7a at anything, it's a little better here and there - refresh rate, battery life, charging speed. The Pixel is again the better cameraphone, generally speaking, is bound to get way better software support, and has superior weather sealing (IP67 vs. IP53).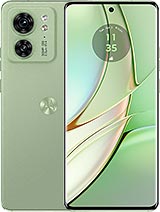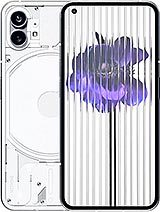 Motorola Edge 40 • Samsung Galaxy A54 • Nothing Phone (1)
Verdict
The appeal of Pixel phones tends to be pretty niche, often not entirely well-founded in reason, and difficult to explain with just numbers and test results. It's somewhat of a similar story with the Pixel 7a here, as a quick look at the pros and cons lists below will show you.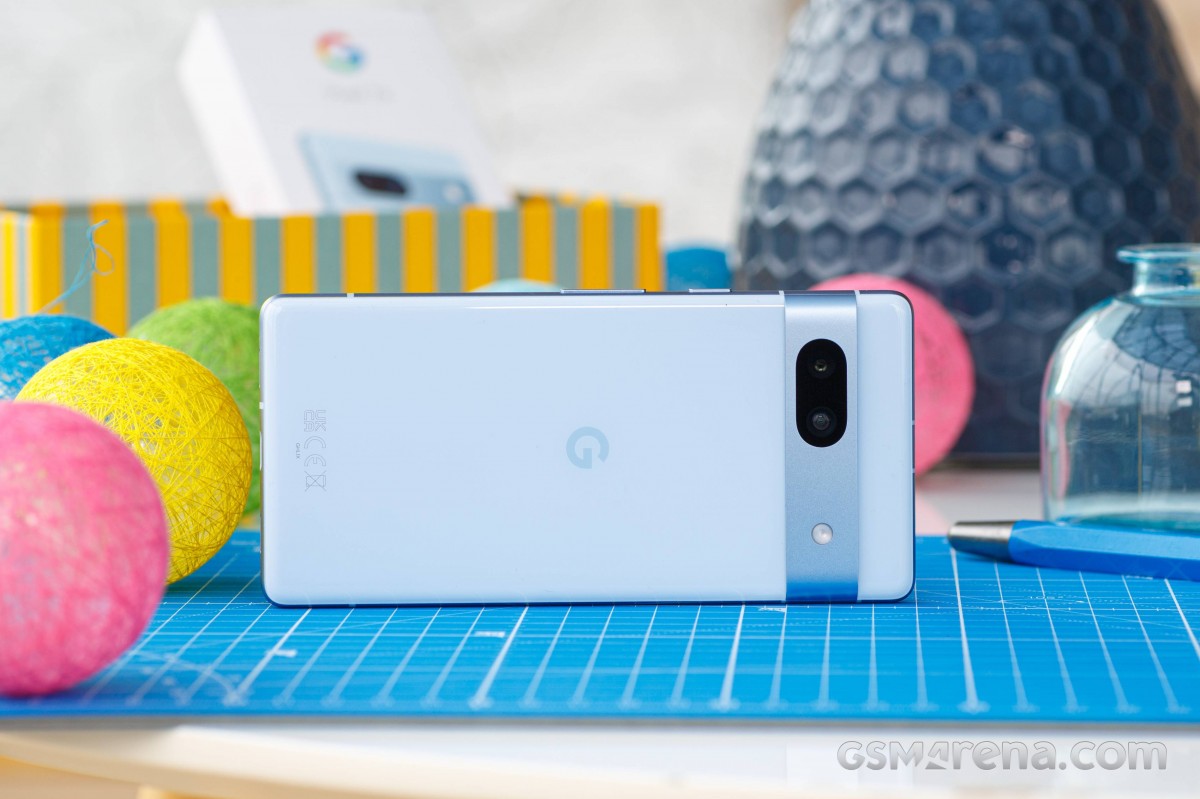 Google hasn't been quick to adopt a high refresh rate display on its 'midrange' model and even when it finally has, it's a 90Hz panel in a sea of higher RR competitors. Battery life is unremarkable, charging speed is downright unacceptable, the lack of storage options is limiting, and the Tensor G2 runs hot and throttles. There are also missteps in what should be any Pixel's forte - camera performance.
Attempting to counter all of the above, we have an Android experience tailored to Google's own vision with a clutter-free interface, Pixel-only features, and an update policy that's hard to rival. An otherwise meh flagship chipset does make for a pretty great midrange one, prone to throttling as it may be. And so long as you avoid people shots in most of their incarnations, the Pixel 7a's camera's system will deliver image quality that wouldn't be out of place on an actual flagship.
In summary, with the 7a, Google appears to have simply created a more affordable Pixel 7, making the latest a-series model the go-to option for someone just looking for a Pixel. If the 'G' logo on the back is not part of your requirements, perhaps there are better deals out there. Perhaps you'll be missing out though.
Pros
Clean Android interface, exclusive features, timely updates.
Chipset has plenty of oomph, GPU is beefier than most in the class.
Flagship-grade photo quality from the rear cameras in most situations.
Cons
Limited availability.
Display is 90Hz amongst competitors with 120Hz (or higher).
Very slow charging, so-so battery life.
Chipset tends to throttle, only 128GB storage option available.
Portrait mode is subpar, selfies aren't great either.
Video stabilization isn't flawless, video quality from the main cam is overall unimpressive too.
Read this on GSMArena